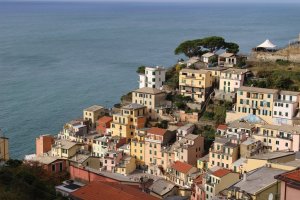 Cinque Terre, sea air, coastal views, romance, food and wine.
I ran away to explore the world at the tender age of eighteen and even though I've yet to come across a country that owns my heart like Ireland does, I always feel at home when I'm in Italy.
Italy is a country that I adore, she has it all; coast, mountains, skiing, sun-bathing, great food, art, history, culture, show stopping architecture and as well as being great craic the Italians know how to party.
So at just 2 hours flight from Dublin I'm never one to refuse the opportunity to get my backside to Italy. I'm quite the culture vulture so when in Italy I'm like a kid in a candy shop. I can spend hours moseying around museums and galleries, stopping for a coffee that I really use an excuse to sit and people watch.
Lately I've become a fan of the walking holiday, after my pilgrimage on the Camino de Santiago earlier this year. I got the bug, so I researched other famous walking routes across Europe and came across Cinque Terre a UNESCO world heritage site on the north-east coast of Italy, between Genoa and Pisa.
Cinque Terre literally translates to five lands and that's exactly what it is. The rugged coastline draws a U-shape with these five darling towns dotted along the edge looking as though one little shake and they'll topple over in to the Ligurian Sea.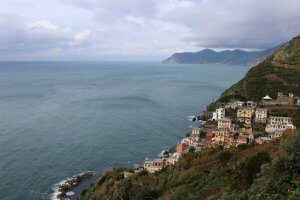 Arriving in Monterosso I got my first view of the sea and took a moment to inhale the fresh sea air and absorb the views. Streets are cobble-stoned, buildings are painted bright pastel colours, locals are smiling and even in November the sun was glorious.
Enjoying a coffee while sitting a boardwalk out on the seaside I felt a million miles away from the stress of work. Life moves at a different pace in Italy and even a step slower in Cinque Terre.
Taking the local train from Monterosso; which is the most northerly of the 5 towns to Riomaggiore; the most southerly I arrived to walk through a tunnel along the Via dell'Amore(The Way of Love). You have to give it to the Italians, they love an aul bit of romance. One of the most beautiful coastal walks in the world so they name it aptly, don't you think?
After a long day travelling, I was a little dis-heartened to realise that Riomaggiore is in the middle the hills and my hotel was, yes you've guessed it, up the very top. Anyway, soldiering on up I got myself to the top and the thought of the pleasure/pain theory crossed my mind. The climb – awful as it was, was so worth it. The views from my hotel balcony were so perfect it was like sitting staring at a postcard. So naturally I order a glass of wine and watched the sunset. The wine was cheap, the hotel was cute and I was just content.

Up and out early the next morning I had plans of walking the full 25km boardwalk from Riomaggiore through Manarola, Corniglia, Vernazza and finish off having lunch in Monterosso before getting the local train back to my hotel in Riomaggiore. Sounds like heaven doesn't it? But, it didn't quite go according to plan.
The stretch of the Via dell'Amore boardwalk between Riomaggiore and Manarola was not accessible due to reparations so it was up and over the hills with me. The hills are steep enough and the climb is physically challenging but every time you look over your shoulder the views get better and better and the sense of achievement gets stronger and stronger.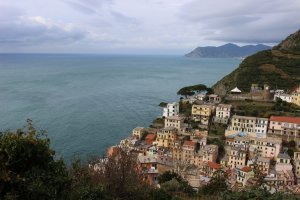 The climb down from the peak in to Manarola is steep. So it's best to take this in a zig-zag motion in order to save your knees. Although all five towns look alike they all each have their own distinct character.
Manarola has all these tiny winding streets. So if you stretch out your arms, you can actually reach the houses on both sides. There is so much cuteness squashed in to these towns. You just want to pinch them by the cheeks, if that was at all possible, of course!
Although there is a small beach in Monterosso, Cinque Terre isn't a beach holiday. It's purely all about the walking routes and views and wine, definitely about the wine. All the locals grow grapes in their gardens. So every shop, restaurant and hotel sell wines produced with their very own hands. There's something very beautiful about that.
There's a lot to be said for the walking holiday versus a beach or partying holiday. Maybe it's just that I'm getting old. I used to love sunning and cocktailing on a beach somewhere. But I always felt like I needed another holiday to get over that type of holiday.
The thing about a walking holiday is when you get home you feel completely fresh. You feel revitalised, like you have everything in your head all figured out. It's almost like being out in the fresh air all day scrubs out the brain of clutter and stress. And every step you take is a step further from your troubles. Something that gives you that result is certainly worth trying.
My holiday was a week long. I booked through One Foot Abroad, who supplied me with all maps and walking notes. They also gave me advice on which walk to choose on certain days. They provided me further with an emergency helpline number, which is nice to have just in case.

I flew in to Milan with Ryanair
Foods you must try is the local Ligurian pesto pasta and the Ligurian pulpo (octopus Ligurian style) these are two of the most authentic dishes to this region of Italy so it would be sacrilege not to try.
Geraldine O'Callaghan
Discover the world by walking in 2023!
Escape from your normal life and take on a new adventure.

Reconnect with yourself and explore the wonders of the world!
Flexible itineraries Luggage transfers Specially selected hotels
Enquire now!
We are sorry that this post was not useful for you!
Let us improve this post!
Tell us how we can improve this post?
Communications Manager working in all things media, based in Dublin's fair city with a passion for travel and an ear for languages. Having lived in Spain, Geraldine speaks fluent Spanish so is happy to grab the opportunity to skip along the Camino de Santiago at the drop of a hat.