An Irish blessing that hung in my kitchen growing up read:
May your joys be as deep as the oceans, your troubles at light as its foam, and may you find sweet peace of mind, wherever you may roam.
I took this with me when I came on my walking holiday to the Great Western Greenway in Ireland. Going into a walking holiday trouble free and open-minded was the best thing I could have done.
Start of the Trip
We started our trip with a few days in Dublin. Dublin was a very welcoming city with plenty to do- our little time there just didn't feel like enough. While in Dublin we did some day trips to nearby towns and cities, but always had a grand time in Dublin in the evenings.
To begin our walking holiday, we departed from Dublin at the Heuston Station on a train bound for Claremorris. In Claremorris we hopped on a bus that brought us directly to Achill Island. Arriving at Achill Island was a dream. The tall sea cliffs surrounded by the beaches is like something I have never seen before.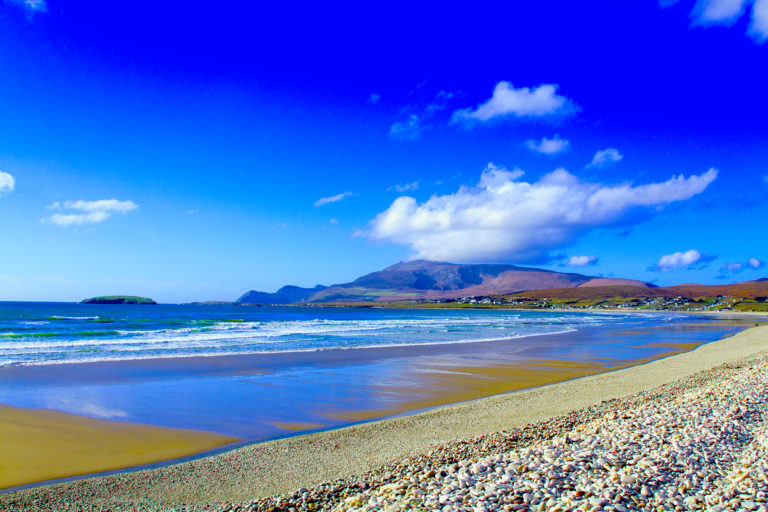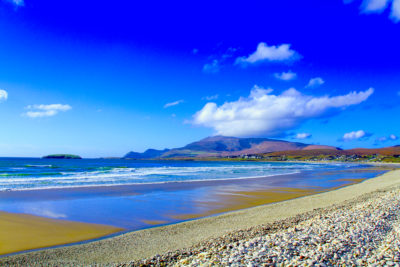 A suggestion brought us to Dooagh Beach- a beautiful beach that seemed to be endless. It was so peaceful and quiet, other than the crashing waves on the shore. While visiting these seaside villages we had to eat the fresh sea-food. It was absolutely to die for. We rested up for our walk the next day, a short walk from Achill to Mulranny.
First Day
The day two walk from Achill to Mulranny was set to be about 13kms, which should take us about 2 hours and 30 minutes. We left out of the gateway of the Achill Island Hotel, where there was a sign directing us in the direction to continue on to. The direction we went in was a walking and cycling path following the old railway line to Mulranny.
The views next to us on both sides were dramatically different- so we never ran out of things to look at. On one side of us was the beautiful, churning blue ocean and on the other side we had fields of long grass flowing in the wind. As we got further, we began to see the mountains of Mayo. I got closer to the mountains and forgot for a few minutes that we spent most of our day hugging the sea.
We arrived to the Mulranny Park Hotel. We were starving so we ran and got some great food and a well-deserved pint. So, we continued our day exploring the town and taking the Mulranny causeway across Trawoughter Bay to view the endless coastline. We retired a little earlier as we were warned the walk on day three is longer than that of today's.
Second Day
We headed out of Mulranny to catch some beautiful views over Clew Bay and to Croagh Patrick in the distance. Fields of green surround us as we climb the hills that lead us to amazing views. The Great Western Greenway is so simple and yet absolutely beautiful.
There are benches scattered along the route if you're looking for a little break. It was nice to stop and get off my feet for a few minutes every couple meters. There are a few others to watch out for on the trail- not only other walkers, but cyclists, and cows as well. The cows openly graze in the area, which sometimes intersects with the area you are walking along.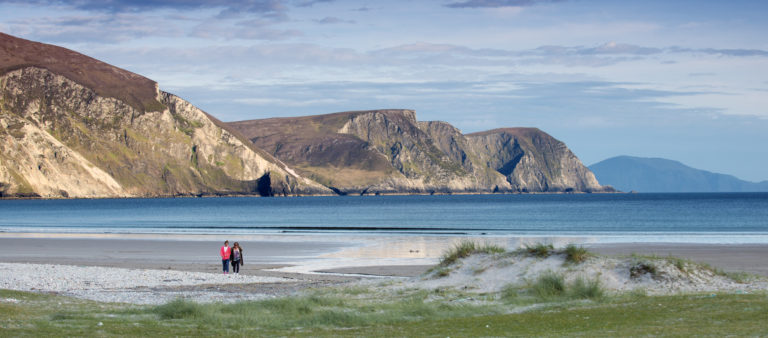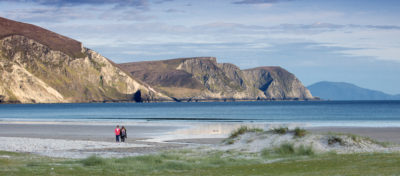 There is a sign along the path that directs to a local pub where we fuelled up on food and tea to keep on our way. We continued on through the countryside and then crossed water via an old stone bridge. This brought us to the final section of the day. The main road brought us right into Newport, which just so happens to be the ancestral home of Princess Grace of Monaco. We explored a little before our well-deserved sleep.

Final Day
Our final day of walking was a short day. The last day on the Great Western Greenway was only set for 11 kms, which took us about 3 hours and 30 minutes. So, we started earlier than we had to so we could arrive at Westport in time for lunch. We departed from Newport by crossing a bridge that brought us through the main road to Westport. We veered off from the main road, which once again brought us to the countryside. None of the countryside gets boring though. There are so many colours and animals to look at along the way.
The section was relatively flat and brought us over some small rivers. We continued on along lines of trees and shrubbery that separate the walking path from the main road. The path began to separate more and more from the main road until we were completely back in the countryside that was riddled with tall trees. We began to pass under bridges instead of cross over them. We then arrived in the town centre of Westport.
The town centre is very Georgian. We had some traditional Irish cuisine and ended our night listening to traditional Irish tunes. This town was definitely the best town to finish our walk in- it was an all-around good time with good people. Ireland is simply a beautiful destination for the whole family.
We checked out of Westport and headed back to Dublin for a few nights to finish our trip. We did a few more day trips out of Dublin. It is amazing how easy it is to get everywhere in this country. The entire country is beautiful and I am so glad that I was able to experience the Great Western Greenway—especially on foot.
Discover the world by walking in 2023!
Escape from your normal life and take on a new adventure.

Reconnect with yourself and explore the wonders of the world!
Flexible itineraries Luggage transfers Specially selected hotels
Enquire now!
We are sorry that this post was not useful for you!
Let us improve this post!
Tell us how we can improve this post?