My sister and I saw the opportunity to cross off hiking in the Dolomites from our wish list. And finally also, to spend more time together. As I had moved to the city and my sister stayed behind in our hometown. She is working in the farm, so we don't get to spend as much time together as we'd like. We decided before life took over completely we would get away and enjoy our walking holiday in Italy together and catch up properly.
We choose beautiful mountain ranges of the Italian Alps called Dolomites. Emma and I flew from Dublin with Ryanair into Treviso and rented a car to Cortina d'Ampezzo (Cortina). We landed too late to catch the bus and we preferred to have the freedom of leaving when we please. We traveled through Northern Italy into the Alps. The roads were good and easy to drive with a few bends.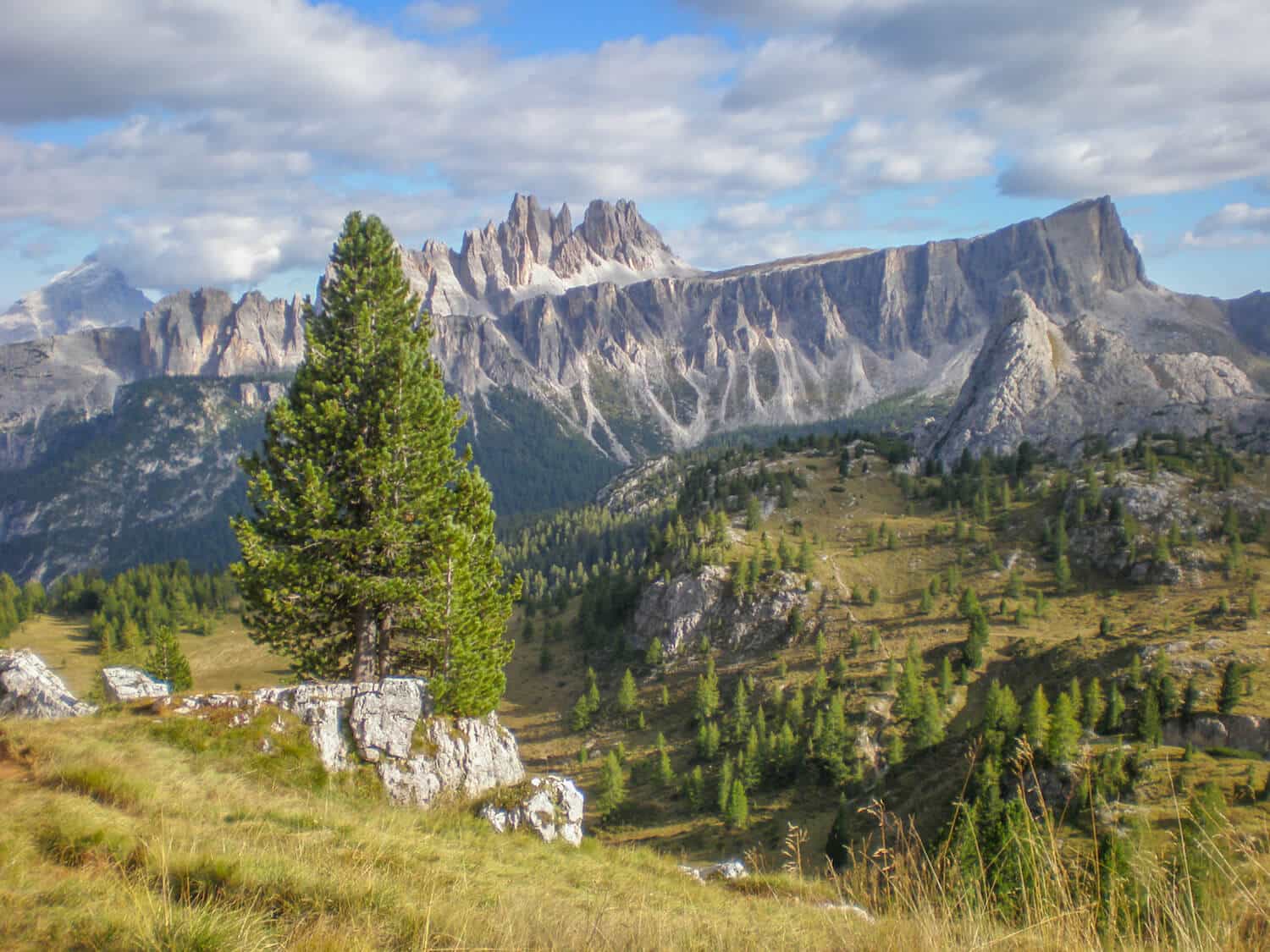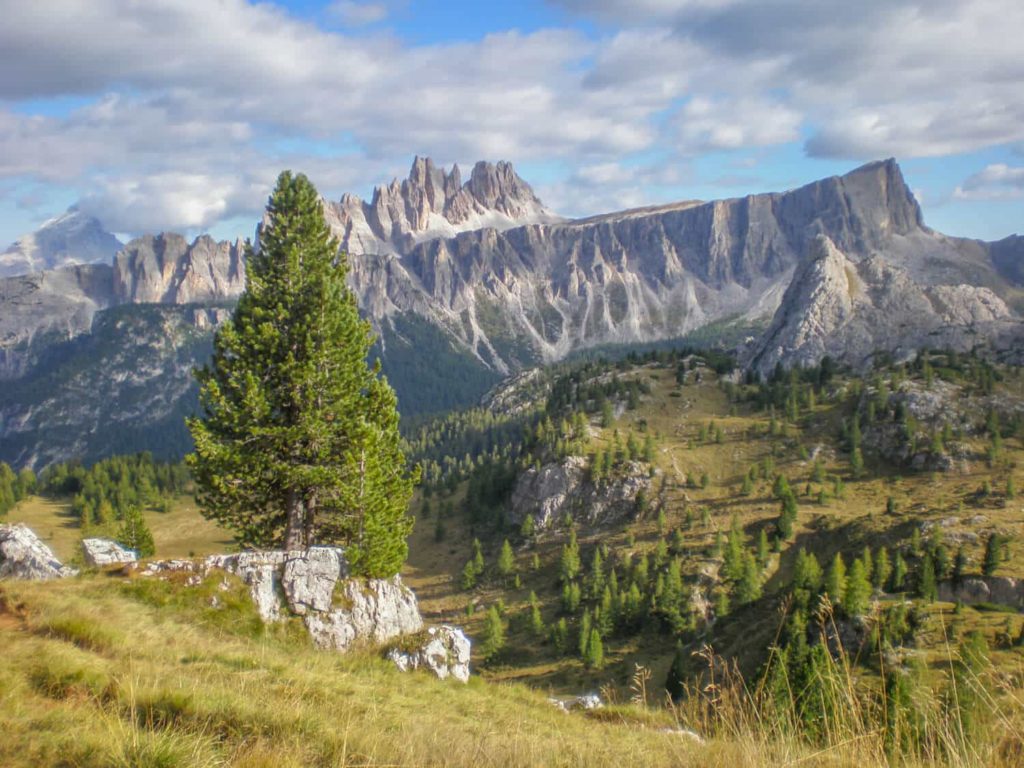 First Day & Arrival
Once we arrived in Cortina, the scenery is just amazing. You are surrounded with limestone, peaky mountains. With the green lush surroundings, we couldn't wait to start off hiking in the Dolomites. The homes and hotels are the traditional Italian style winter lodge type building.
First day walking after a generous breakfast to fuel us for the day. We got lunches from the supermarket the day before and caught a bus to Misurina. This is where we started following the walk alongside Lake Misurina. We found the trail which brought us to Tre Chime Landmark. It was a little challenging but so rewarding and enjoyable.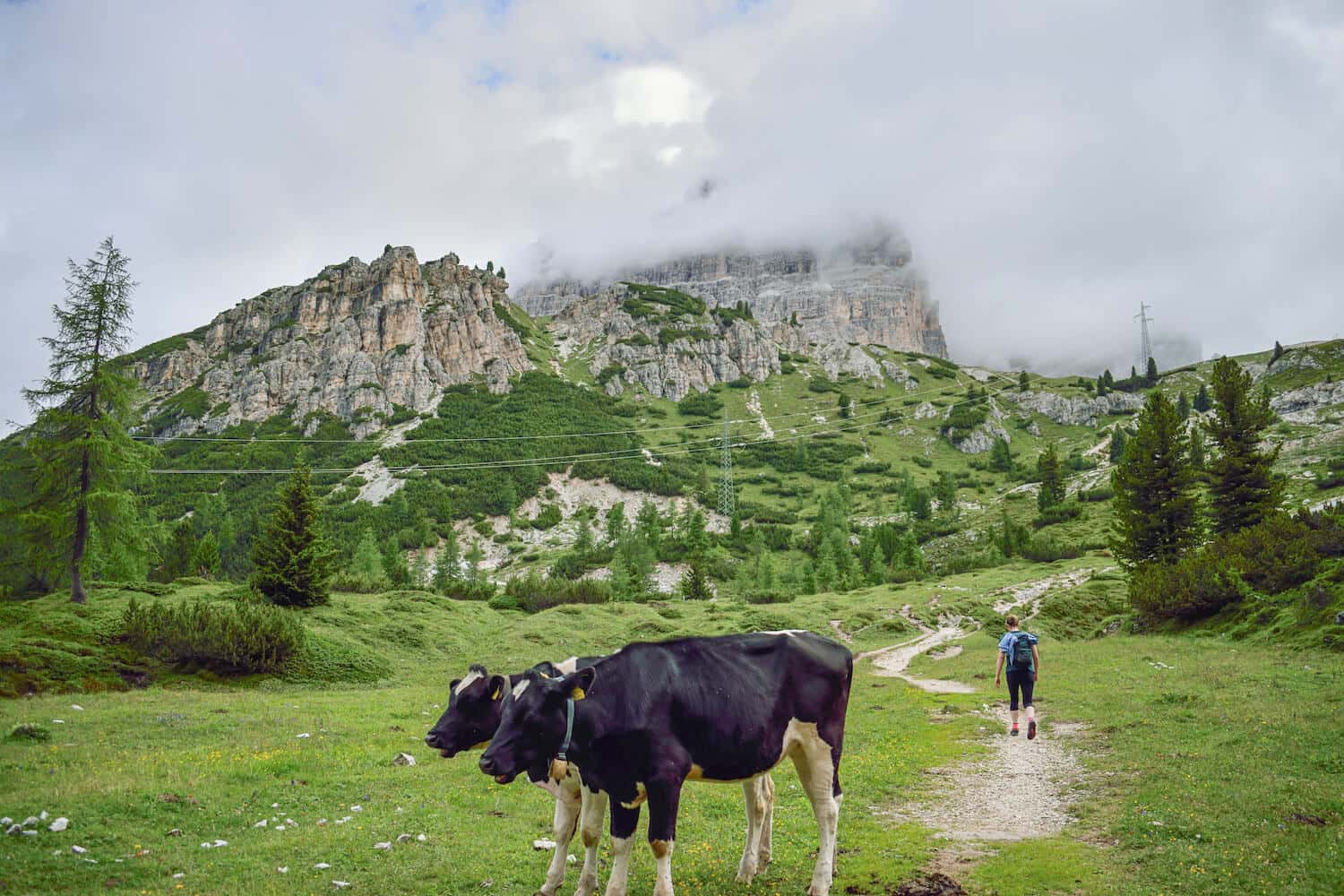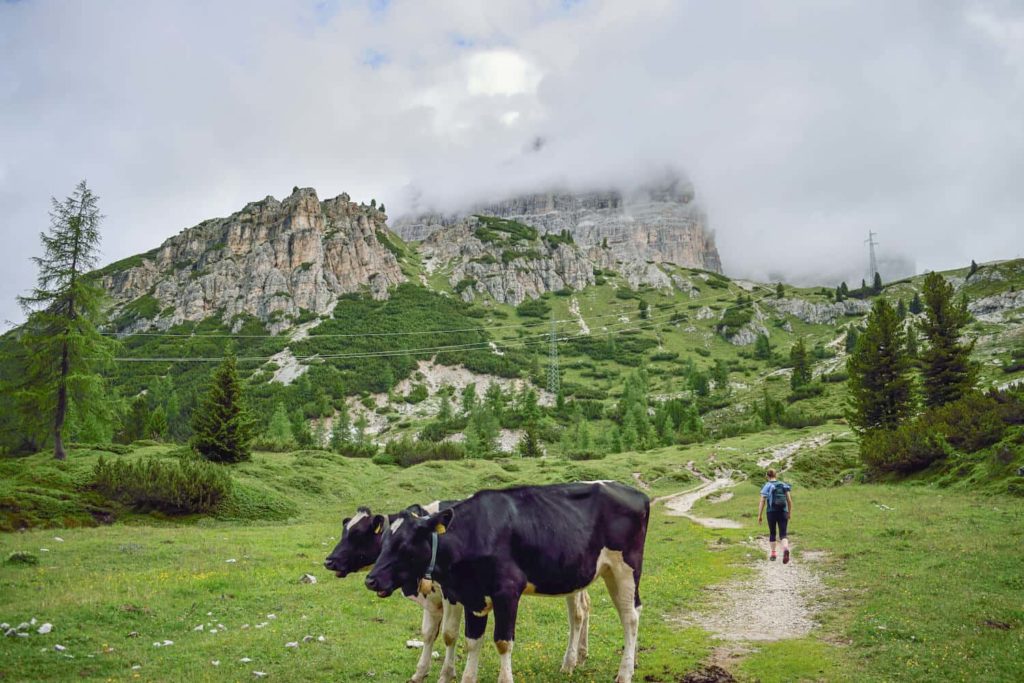 Emma and I are not the selfies type. But we really got the urge of taking selfies with the scenery behind us. It was nice to be in the middle of the countryside. Listening to just the silence and the bell ringing from around the cows necks and listening to our foot steps.
As we were walking along the track which brought us down through the green small fields of the cows. They look so relax as we walk passed them. One even smiled, I'm convinced of it. As both of us came from the farming background, we love talking to the farm animals. We adore watching their characters and attitudes towards people. These cows are very relax and tend to ignore people walking past.
The landscape being on top of the mountain is unspeakable. There are just no words or pictures would do it justice. You can see so far across the mountains with the valleys and the river below. We were walking along the edge of the valley high up for a while. Just when we thought it couldn't get any better, the views left us gobsmacked. Hiking in the Dolomites should be on everyone's bucket list.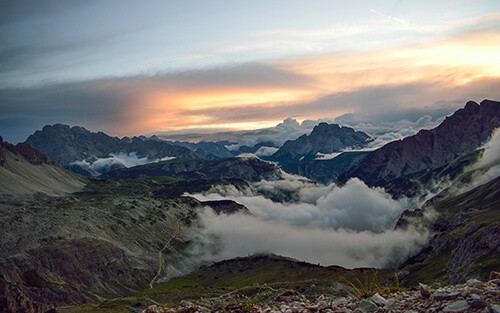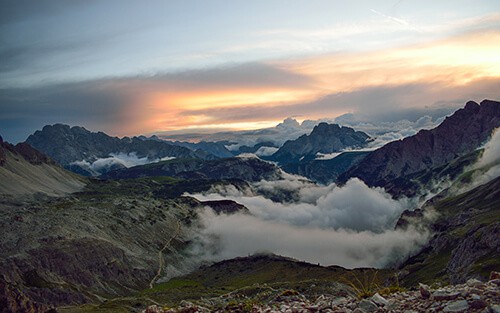 As we turned following the track, we felt as we were at the bottom of the mountains again. We could even see the famous landmark Tre Chime. Once we were at the Tre Chime, we noticed the view of the valley. We saw the long distance of the mountains that we are far away from any cities, industries and internet. The only means of transport is hiking and helicopter. There are no cars or even bikes here.
Sometimes I can feel the internet, social media has taking over my life and I can feel I need to check it every day and panic that I am missing something. Here, I was far away which is not accessible during winter because there would be feet of snow here.
While we walk on to our second night in our refuges, we saw a rescue helicopter in training. We walked on the old trail which is not recommended for the faint heart. There is a proper, much safer trail. We decided to go for it and it was fun and challenging. We noticed different caves.
There were histories in these caves. This is where the Italian Army sheltered during fights against the emenies during war time. As we went further up there is a narrow corridor steps with many viewpoints to keep an eye on any enemies coming. Through the viewpoint is just vast scenery of on top of the mountains with sun going down.
Second Day
The second day after healthy breakfast we check our trail and started hiking in the Dolomites. We were only descending down the mountains. Unfortunately I had not prepared for my bad knee but if you have any injuries of any sort please wear your knee support and use walking poles as you descend the side (very steep) of the mountain trail because the river and waterfall which lead to small village Trenker which has number of different buses. it was spectacular, I am learning photography so I have plenty of full taking pictures of the waterfall, river with the amazing background.
It is a photographers dream land. Once we reached the town where we catching our bus, we stopped for coffee and relaxed watching people doing a shorter walks. It had been amazing two days so far that we were very excited to see more. There's much to take in, who would think the middle of the mountains could have so much to do and see.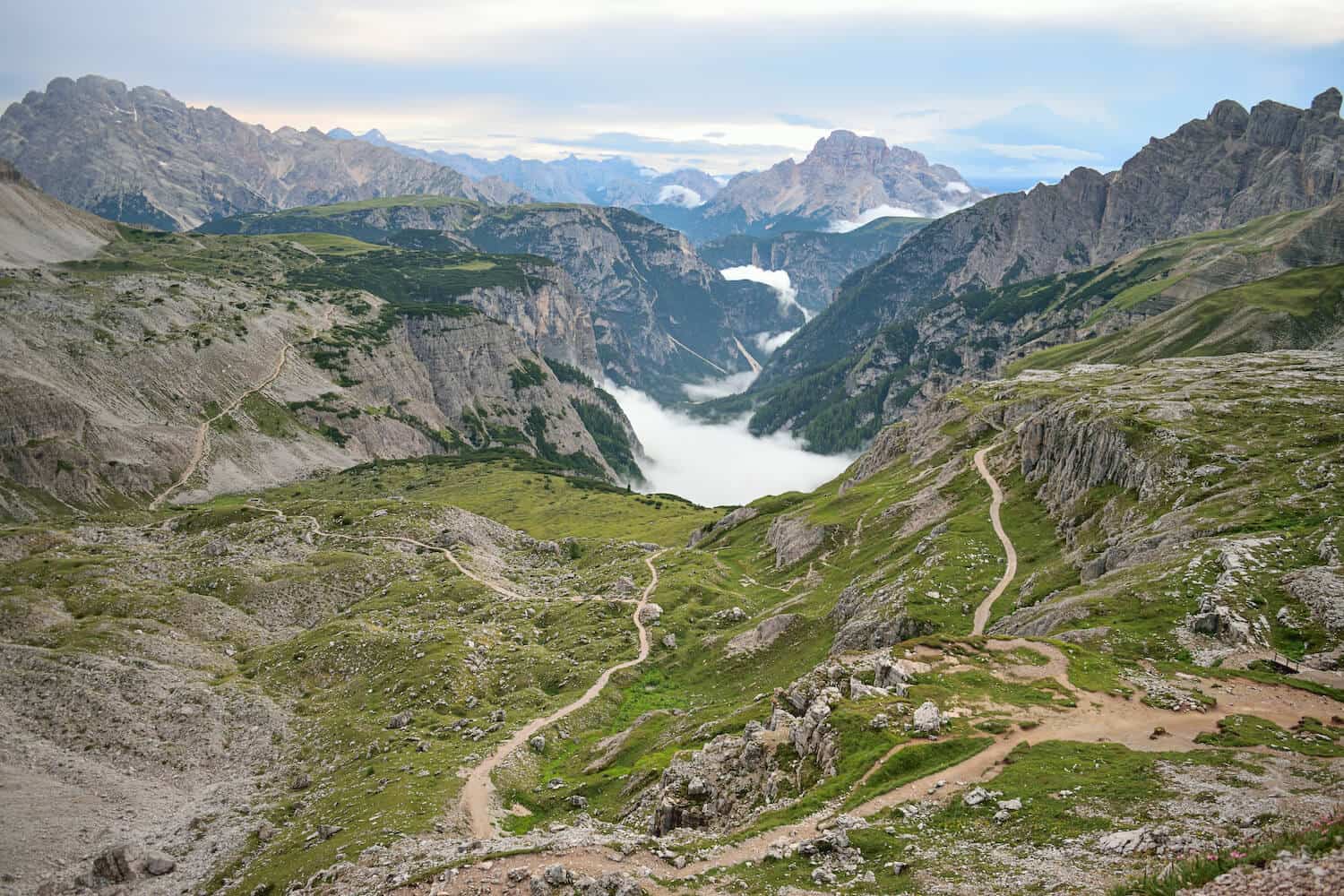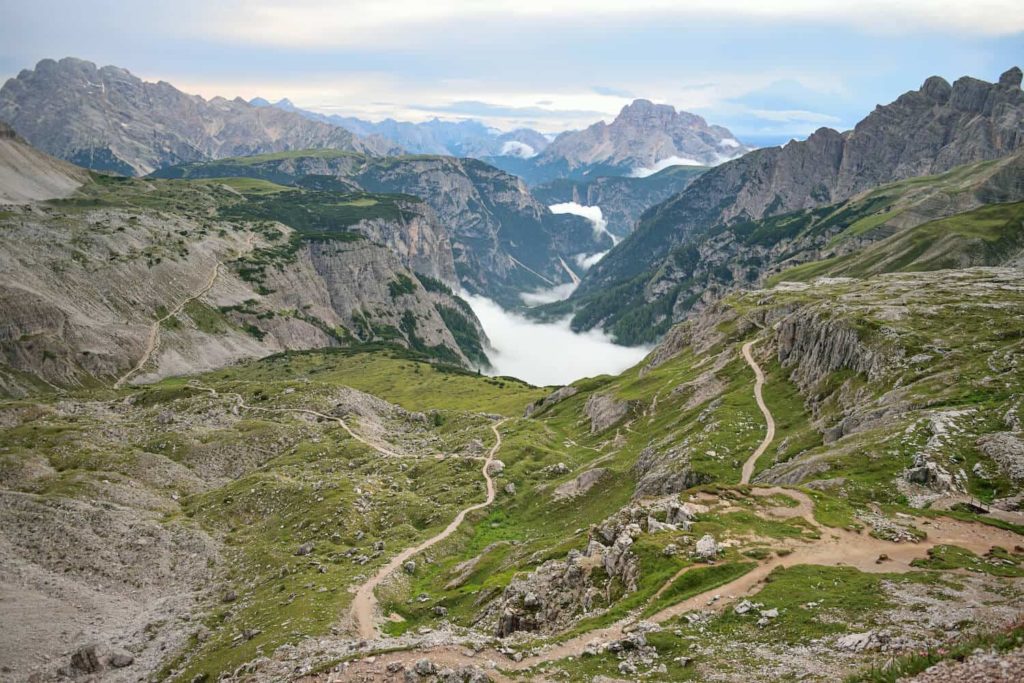 We caught the bus to S. Biagio and start walking down the old train track to Cortina which was converted to the bicycle trail. It was an easy gentle slope walk. We started posing for the pictures even. It was relaxing and a nice finishing off of the challenging day before and that morning.
Fourth Day
Unfortunately, my bad knee was punishing me for not taking proper care that I had no choice but take a rest day. As we are staying in the same hotel for rest of the holidays, we could pick and choose our trail that suited us. With the help of our hotel receptionist we decided that Emma will walk part of the mountain and I will go by cable car and meet her at the top.
I was enjoying myself with my feet up looking out high up over Cortina with the hot chocolate and then wine. Emma went up a challenging trail and she got a little lost but she met these two lovely couples who help her and guide her to reach her destination. I guess she struggled without me! When she eventually met up with me we soak in the sunshine and scenery we eventually took the cable car back down.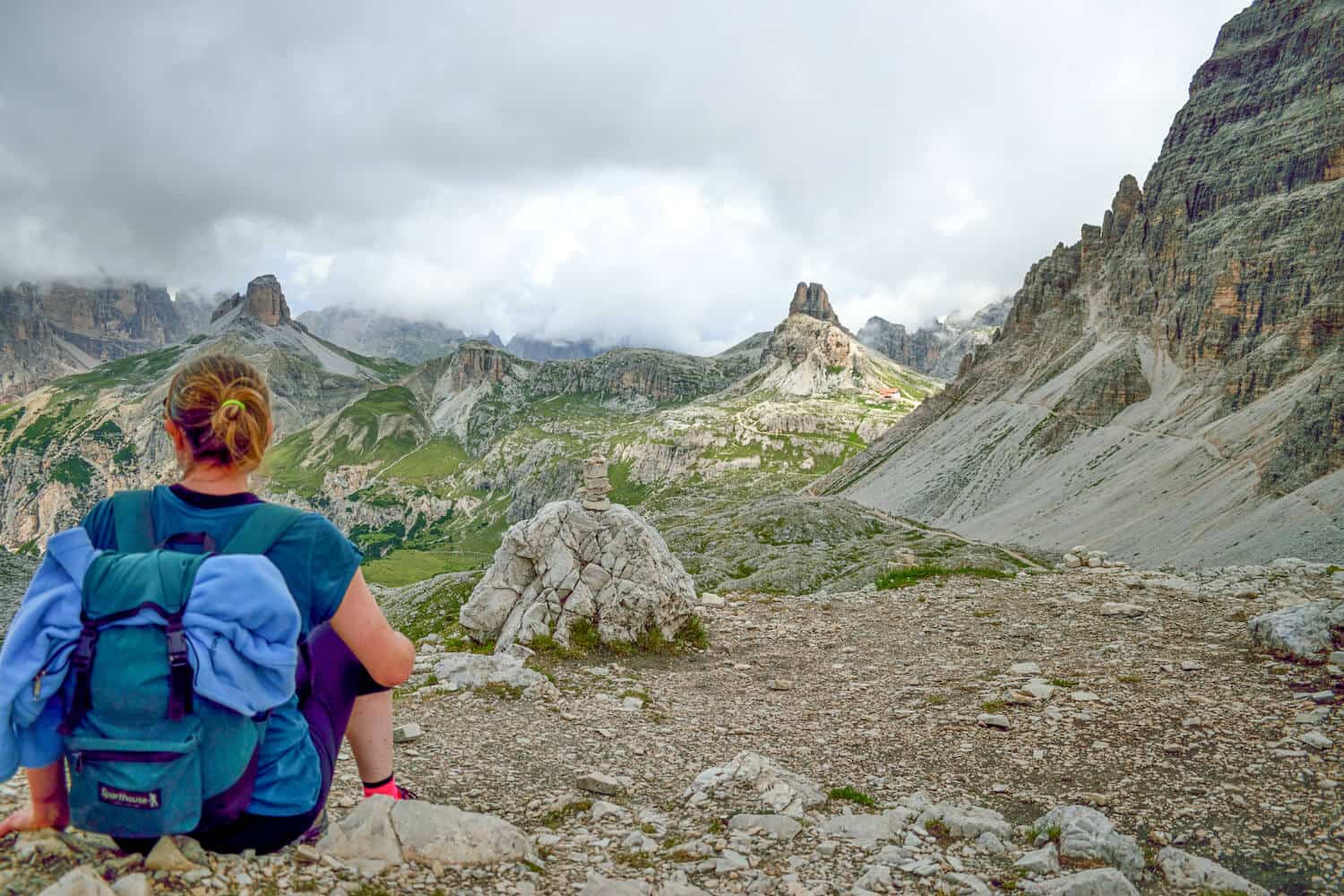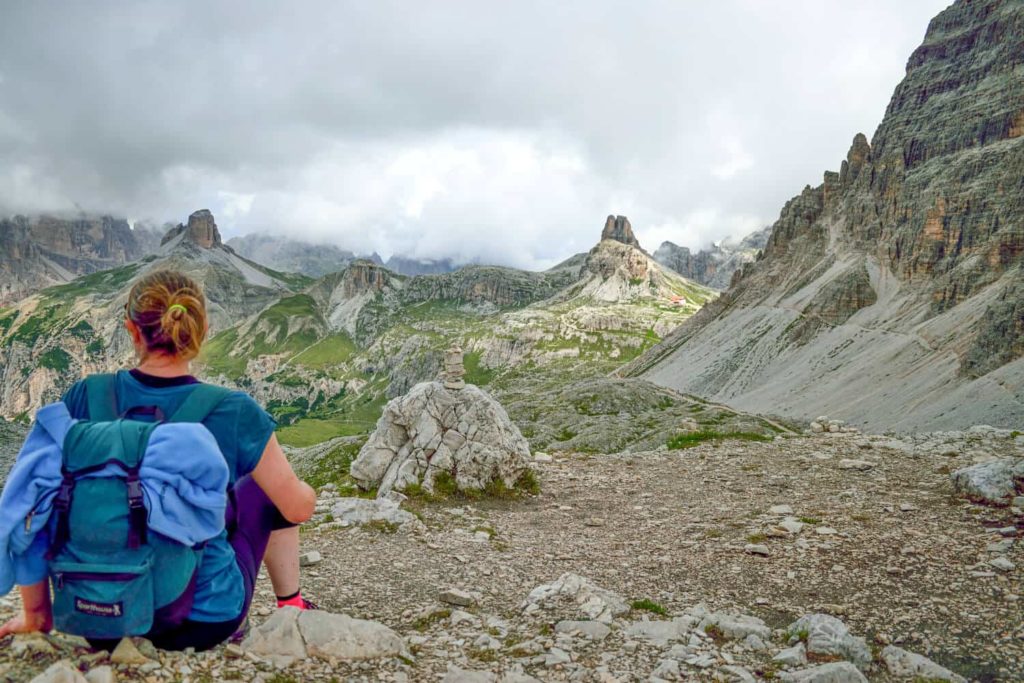 Fifth Day & Departure
As Emma was very tired after 3 challenging days walking and I was still recovering from the injured knee, we decide for an easy walking day along the lake up the Alpine river, T. Boite, near Cortina D'Ampezzo, Dolomites. It was a flat and enjoyable walk. Though we did get lost but, it was easy to find our way back with the help of location and download offline maps. We walked part the woodlands and saw a female deer with her baby deer.
On our final walking day we took a bus to Tre Croci and walked along the walking trail 215 to the blue lake Lago del Sorapis. Again it was a nice way to finish our holiday hiking in the Dolomites , we were walking along the edge of the mountain overlooking the valleys and miles and miles of mountains ahead. It was quiet a narrow trail but it is manageable and enjoyable. As we continue along the trail and reached our destination, the colour of the lake was spectacular, cloudy blue waters.
On the final day of our trip Hiking in the Dolomites we went to the famous ice hockey rink in Cortina. We were going to practice and have a bit of fun. We went in and felt a bit silly as there was professional ice dancing and her protégé who was amazing showing all the different moves.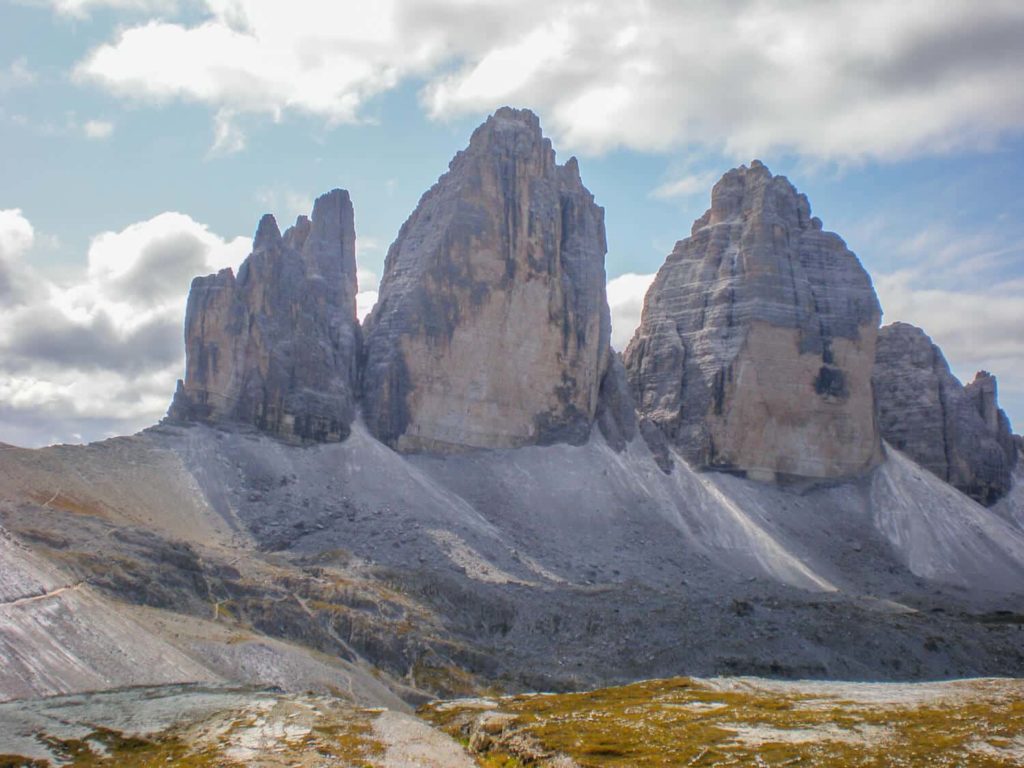 My sister and I were completely in awe with their moves and after a while we decided it is best to not to go on and make a fool of ourselves! The food in Cortina was delicious, we would however recommend to go outside the center a little as there are beautiful restaurants but much cheaper prices. We found out in the last two days.
We really enjoy our time hiking in the Dolomites. It is challenging but there is different scenery in every different parts of the peaks. I would definitely recommend it to anyone who enjoys hiking and thank you One Foot Abroad for the opportunity.
Gail Delahunt
Discover the world by walking in 2023!
Escape from your normal life and take on a new adventure.

Reconnect with yourself and explore the wonders of the world!
Flexible itineraries Luggage transfers Specially selected hotels
Enquire now!
We are sorry that this post was not useful for you!
Let us improve this post!
Tell us how we can improve this post?
Travel marketing executive, originally from Tipperary (as the song goes, it's a long way to Tipperary). Enjoys photography and hiking around the world, visited 5 of the 7 continents. Plans to visit Antarctica very soon.