What do you pack for the adventure of a lifetime on the Tour du Mont Blanc? What size should my bag be? Should I wear waterproof boots, or not? How many water bottles should I bring?
As you start preparing everything for your trip, new thoughts and questions might come up. If you are wondering what to pack and what to better leave at home, don't worry. To help you with your preparation we have compiled the ultimate Tour du Mont Blanc packing list for you!
What should I pack for the Tour du Mont Blanc?
Excited? Let's begin packing!
Before you start shoving things in your backpack, you need to think about the conditions of your tour. As we offer trips with different durations, you will be in the mountains for 8, 12 or 13 days. Depending which option you have chosen, you will need more or fewer things.
Your personal packing list will also depend on the accommodation you will be staying in. If you booked the Authentic Tour, you will sleep in shared dorms in simple mountain huts and should bring some specific items that you won't need if you take part the Comfort Tour featuring hotels. For example, a hotel usually provides towels and some toiletries.

High mountain regions have their own climate. Don't rely on warm and sunny weather, even if you are going on the Tour de Mont Blanc in the summer months. Always be prepared for rain, wind and cold as the weather can change quickly.
If you decide not to hire our luggage transfer service, you should pay extra attention to packing light. However, we will gladly make your hiking adventure even more enjoyable and transfer your luggage from point to point so you don't have to worry about the weight of your backpack. Your back, knees and feet will thank you!
If you decide to stay in mountain huts and carry your own bags, then you have to condense your wants and needs down to a core number of items. This is tactical packing at its finest. In order to help you make the right choice on what to pack for your Tour de Mont Blanc, we have created an ultralight Mont Blanc packing gear list to get you started!
This is a general Tour de Mont Blanc packing list for both men and women.
Clothing to Pack for your Tour de Mont Blanc
Consider factors like quick-dry and thin lightweight material. Avoid cotton and denim at all costs, as it holds moisture next to the skin causing chaffing and blisters. It also takes longer to dry after washing or getting wet and can make you very cold.
3 short-sleeved shirts (base layer)
1 or 2 long-sleeved shirts (mid-layer)
2 pairs of trousers. Decide what is most comfortable for you. Some prefer gym leggings, while zip-off trousers/shorts are very practical, too.
8/12/13 changes of underwear. Choosing the best hiking underwear can make a huge difference to your hiking experience. For both men and women, find underwear that fits close to your skin, but not too tight, that dries fast, and is breathable. Make sure you test your underwear on your training hikes, chaffing underwear are incredibly uncomfortable.
Women: 1 hiking or sports bra. Ensure you get the correct fit to avoid rubbing or too much movement.
4 changes of socks. This is a very important item on the list. Preference good quality synthetic or merino wool as they do not store moisture like cotton.
Fleece or merino jumper (top layer to keep you warm)
1 extra warm item, for example, a natural or synthetic down vest
Walking shoes/boots
Extra pairs of socks (wool for warmth)
Wool or fleece hat
Gloves
Sun hat with a good brim.
Casual clothes and shoes (only recommended if you do the Comfort Tour and would like to explore the towns in the evening. As not all mountain huts are accessible for us to provide luggage transfer, you should waive the extra clothes if you do the Authentic Tour.)

Rain Gear
The weather can be very unpredictable in the mountains, so it is essential to carry good, waterproof rain gear. This should include a poncho, rain trousers, a raincoat, or some combination of the above.
1 pair of thin, waterproof hiking trousers.
Waterproof jacket/Raincoat. Gore-Tex or a similar product is recommended as it is lightweight and very waterproof.
Poncho: not sufficient alone, but can provide further protection if worn over the raincoat and bag. The thin plastic ones are not helpful.
Tip: go for a walk on a rainy day at home to test out your choice before leaving. To test under full-on torrential conditions, hop in the shower wearing your gear. Any leaks will quickly become apparent.
Your Tour de Mont Blanc hiking shoes
Choosing the right footwear for your Tour de Mont Blanc is one of the most important decisions that you have to make. It's vital to find shoes that fit well and are suited to your body, the weather, and the terrain.
Comfortable, waterproof hiking boots with ankle support
Flipflops/lightweight shoes for the evening
Tips: Before starting your Tour de Mont Blanc, make sure you've broken them in over at least 6 long walks. Also, take a spare pair of lightweight shoes for the evening – preferably waterproof if using hostel showers – to give the feet a rest after a day's walking.
Further info on choosing the best walking footwear on our sister company article.
Essential Extras
Documents (Passport, National Identity Card for EU, international medical insurance or European Health Insurance Card)
Cash (many huts won't accept cards) and a credit card/debit card
Water bottle or bladder, to carry at least 2L
Sunglasses & sun cream
Toiletries (keep this to a minimum, but don't forget your toothbrush!)
Small first aid kit: Painkillers, elastic bandage, small scissors, hand sanitizer, tweezers, hayfever tablets, personal prescribed medication
Footcare: Compeed, Moleskin tape, plasters, a small bottle of talcum powder, Vaseline and tape, or some collection of these. Every hiker prefers a different technique of preventing blisters. Try them out on long walks at home and find out what suits you best.
Insect repellent
A small amount of washing detergent for handwashing clothes. You can get washing soap bars which are quite compact and light.
Electrical socket adapter (check if your country has different socket outlets!)
Phone and charger, and a waterproof case if your backpack isn't waterproof
Camera and charger
A small torch, in case you end up outside after dark
Walking poles
Our One Foot Abroad Guidebook
Neckwear/headscarf, for example, a "Buff"
A ziplock bag for your litter on the way
Additional items if you are hiking the Authentic Tour de Mont Blanc:
Towel: we recommend an ultracompact microfibre towel. These towels don't take up much space in your backpack, are lightweight, and dry quickly.
Slip-on shoes: Usually you leave your hiking boots outside or in a storeroom. It is bliss to change into open and light shoes after a day of hiking. Plastic or rubber slip-on shoes can also be worn in the shower.
Earplugs: You will often be in a dorm with other people shuffling around or snoring.
Sleeping bag liner: The beds in the mountain huts are equipped with duvets and pillows. However, the sheets are not always washed daily. Liners are available in silk, synthetic, or cotton – choose silk or synthetic.
Tip: Name-tag your belongings! In some mountain huts, you will be asked to leave your gear in an extra room to avoid cramped dorms. A nametag will be helpful to identify your things, as it is possible that another hiker may own similar gear.

Useful extras (think twice if you don't have luggage transfer)
Binoculars
Notebook and pen
Energy snacks
Extra rechargeable battery pack for your phone
Your favourite book/ kindle
Earphones
Playing cards
Tip: If you are walking together with friends or your partner, you should consider sharing some items.
Not everyone has to bring a camera, instead, decide who will be the designated photographer.
You won't use your phones a lot and should be able to share a charger.
Not everyone has to carry a full bottle of insect repellent or hand sanitizer. Talk with your travel companions about this in advance.
Your backpack and you: Best frenemies on your Tour de Mont Blanc
When choosing a hiking backpack for your Tour de Mont Blanc – consider comfort above all. You will be carrying your own load (if you decide to not hire luggage transfer) for the duration of your adventure. Every day you will be walking between 12 and 28 km.
Choose a good quality lightweight backpack with a ventilated back. A padded, adjustable hip strap is a must to help you keep balanced and put the load on your hips instead of your shoulders and back. Opt for a backpack with an internal frame (most modern backpacks) instead of external. Remember to bring a rain cover in case of heavy rain.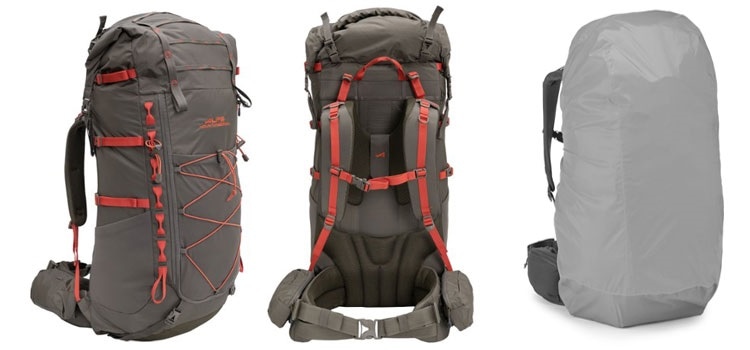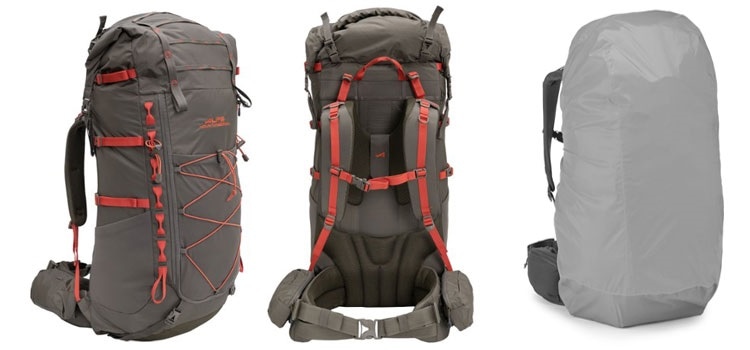 If you will make use of our luggage transfer, you will need a day pack and an overnight bag:
In your day pack, you will carry everything you need during the walk, like water, food, warm layers, waterproofs, cameras etc. This backpack can be anything from 15 – 35 litres capacity. We recommend that you check at home if everything fits inside or if it even might be too big. It should also have a waistband and a chest strap to distribute the weight. A built-in rain cover would be perfect, but you can also buy one separately.
In your overnight bag, you can pack everything you won't need during the day, like your comfy evening clothes and shoes and your toiletries. It should not weigh more than 20 kg.
Packing Technique
You and your backpack will become very close on the hike – the manner of that relationship depends on the weight and also on your packing technique. To have a backpack that rests comfortably on your hips and doesn't move around as you hike with it, it is important to think about balance, convenience and functionality while packing.
A typical hiking backpack usually consists of:
Main compartment: for your heaviest things
Bottom compartment: bulky things that you won't need urgently
Top compartment: gear that you might need during the hike, like your rain jacket, sunglasses and snacks
Small side pockets: smaller things you might want to reach easily, e.g. your water bottle, more snacks, lip balm
Tool loops and lash-on points: for your walking poles, when you are not using them
Try to make sure that your heaviest things are near the bottom of your back and close to your body.
Tips:
Fill gaps with small things like socks and underwear
Try to balance the weight so that no side is heavier than the other
Tighten the backpack's straps to condense your load
Rubbish bags are a cheap and effective way to provide extra protection for your clothes and other items you don't want to get wet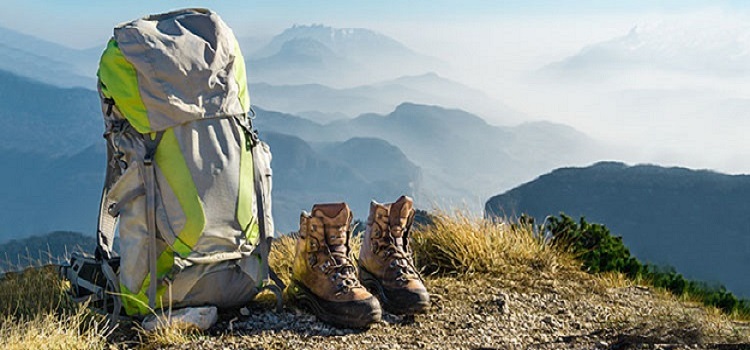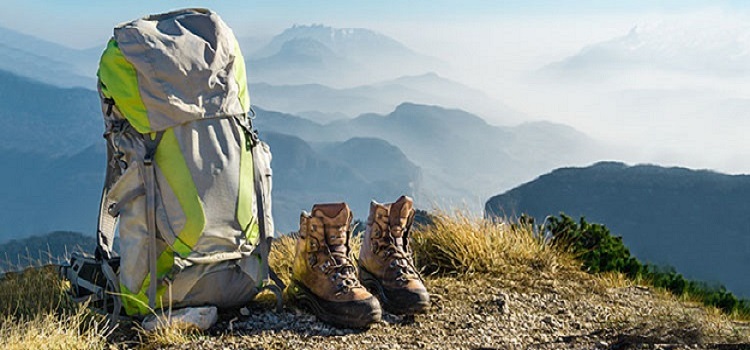 Congratulations, you made it through the list! It may look a bit overwhelming and there is a lot to consider, but it will definitely pay off if you take your time and pack carefully.
Remember that we offer luggage transfers, as well as accommodation, so you can focus on the adventure of hiking the Tour de Mont Blanc without worrying about your baggage.
You can also read about training for your walking holiday to Mont Blanc on our blog.
Good luck with your preparations and we hope you have an amazing hike!
We are sorry that this post was not useful for you!
Let us improve this post!
Tell us how we can improve this post?