Walking in Slovenian – well, I never pictured myself going on holiday to Slovenia as I always tend to sway towards traditional tourist destinations. However, after stumbling upon picturesque photos of Slovenia online, I immediately knew this was the place. I am a photography enthusiast, and these striking landscapes definitely piqued my interest.
First of all, I want to start out by saying – I am not an avid hiker. In fact, I am of very average fitness capabilities. This walk was still perfect for me as it did not require much expertise in hiking.
We arrived in Kranjska Gora – a famous ski resort. This marked the start of our tour. Something cool about this start is that the ski resort is the home to the World Cup Slalom ski races every January. This hotel had views of the western Julian Alps.
The Julian Alps are absolutely massive mountains. They are very impressive to look at. We explored for a little and got some photographs of the enormous mountain ranges that painted the backdrop of the entire resort. We retired for the night to get some rest for the next few days of walking.
First Day of Walking in Slovenia
Our first day of walking was to be 19 km long. They told us this was our 'warm-up walk' which was perfect because we were still adjusting to the time change. This walk took us through a trail to the end of Jasna Valley. The end of the trail brought us to the Prisank and Razor Mountains.
We stopped for a hikers lunch in Krnica hut and visited the Russian Chapel, which is a monument for the Russian POV's that died in WWI while building the military road over Vršič Pass. So, we returned to Podkoren through Kranjska Gora. We explored Podkoren, visiting local shops and restaurants.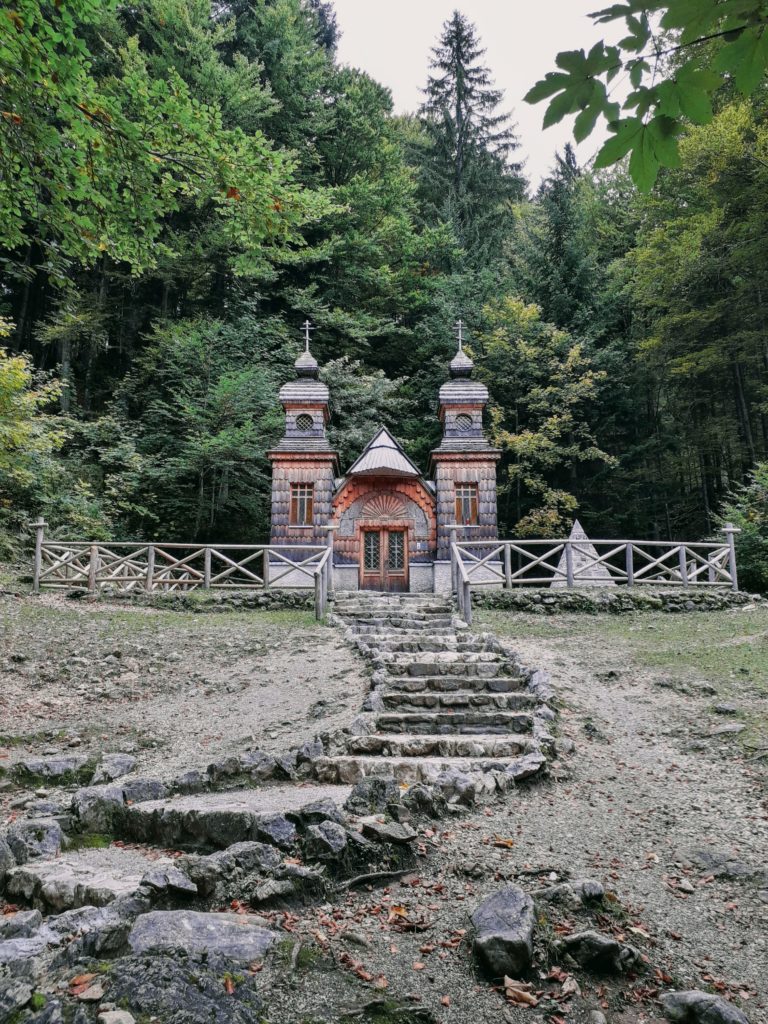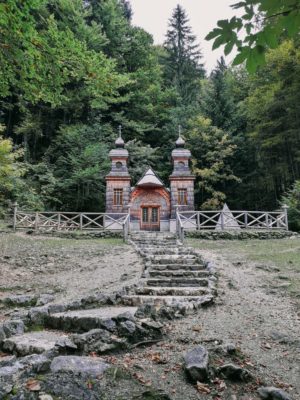 Day Two
I was excited for our second day of walking because we planned to walk to the three countries point where Slovenia, Italy, and Austria all meet. The three countries meet at the summit of Mt. Peč, which has an altitude of 1508 meters. The views at the summit are unimaginable- all you can really do is stand there in awe.
The views are of the Julian and Carnian Alps and Hohe Tauern (the highest alpine range in Austria). The descent brought us through a beautiful green valley to the source of the Sava River, and then back to Podkoren, once again through the Kranjska Gora ski resort.
Third Day
A car picked us up to bring us to our third day of walking in Slovenia. The car brought us to Radovna Valley. Radovna Valley seems to be completely pure of nature. It lies between the Pokljuka and Mežakla plateaus. The drop off point was at the start of Vintgar Gorge, a stunning 1.6 km gorge carved 150 meters down into the mountains from the Radovna River. No pictures can do this place justice!
The water is clear and flowing against the crisp rocks into the stunning green vegetation that surrounds it. The trail continues on via a wooden walkway through the gorge and eventually leads to Bled Lake. We arrived to our hotel that overlooked the beautiful blue lake with a backdrop of the crisp mountains behind it.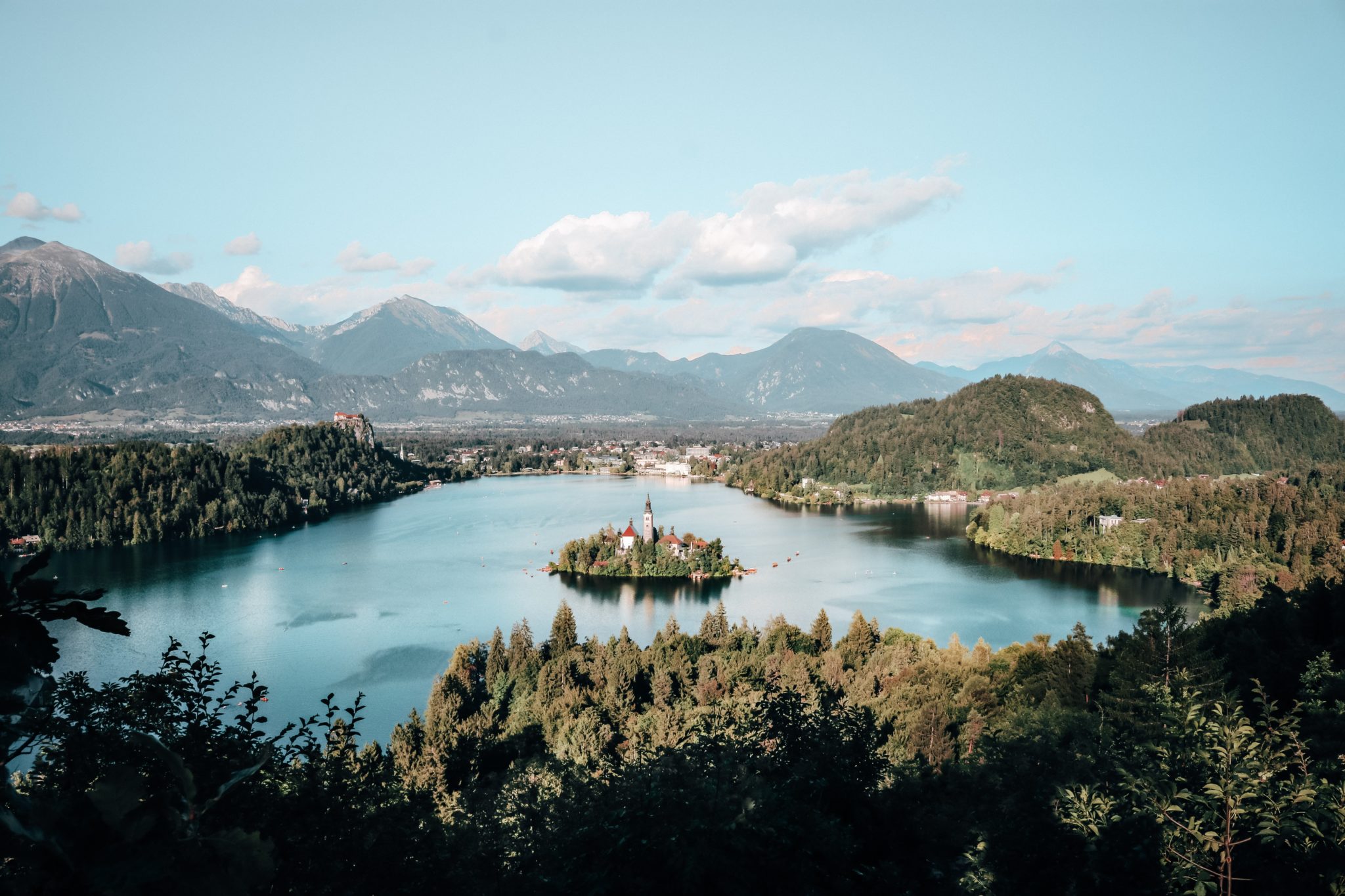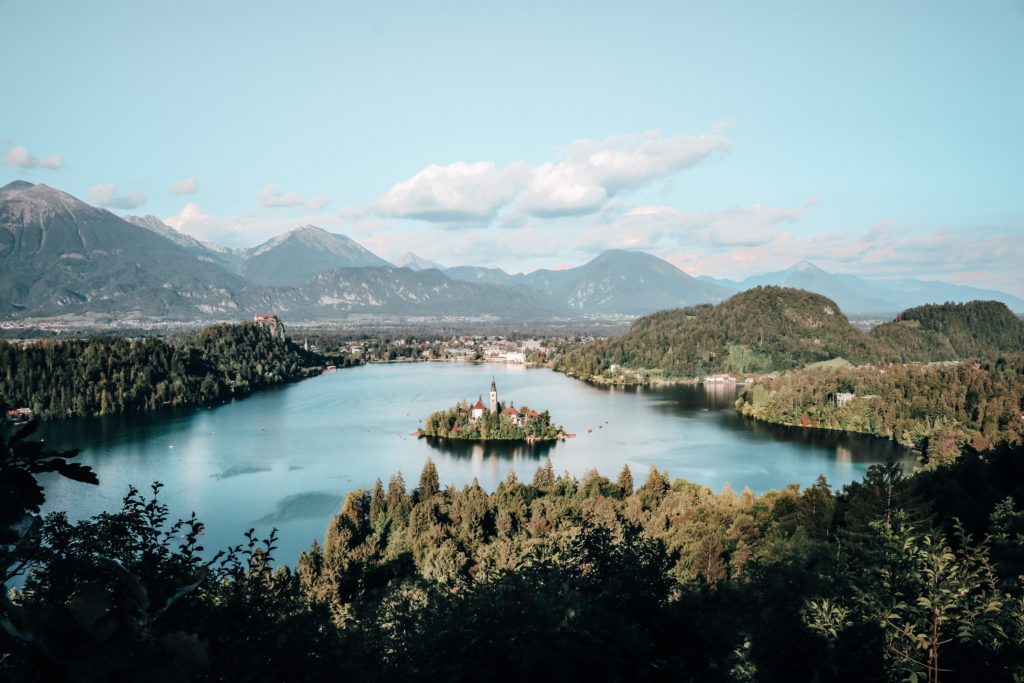 Day Four
We began our fourth day of walking in Slovenia, with a stroll into Bled. Bled is world-famous as it is on the shore or an impressive glacial lake. There is an island church that sits beautifully in the middle of the lake. There is also a castle that sits perched on a cliff, looking over the town. We took a short panoramic walk to Kupljenik and Bela. Of course, this entire town is super photogenic, so I could barely put my camera down.
We were directed to go up to Osojnica for the best photos of the lake and no matter how beautiful of pictures I took, they still don't do this view justice. Of course, we had to end our day with something sweet- a local specialty, Kremšnita. Kremšnita is an ice cream cake that is sold in one of the little tea shops beside the lake. It is fantastic.
Fifth Day
We were picked up the next morning by car to arrive at the Pokljuka Plateau. Here is where we began our hike. Today's hike brought us over many different types of scenery. There were mountain pastures and old farmhouses that eventually led to a viewing point that showed unimaginable views into the Bohinj Valley.
Our descent brought us into the historic village of Studor, where there is a little museum that depicts how people lived in this area over 150 years ago. We then arrived at Lake Bohinj- located in the heart of Triglav National Park, and we explored the small settlement of Ribčev Laz (Fisherman's Pass).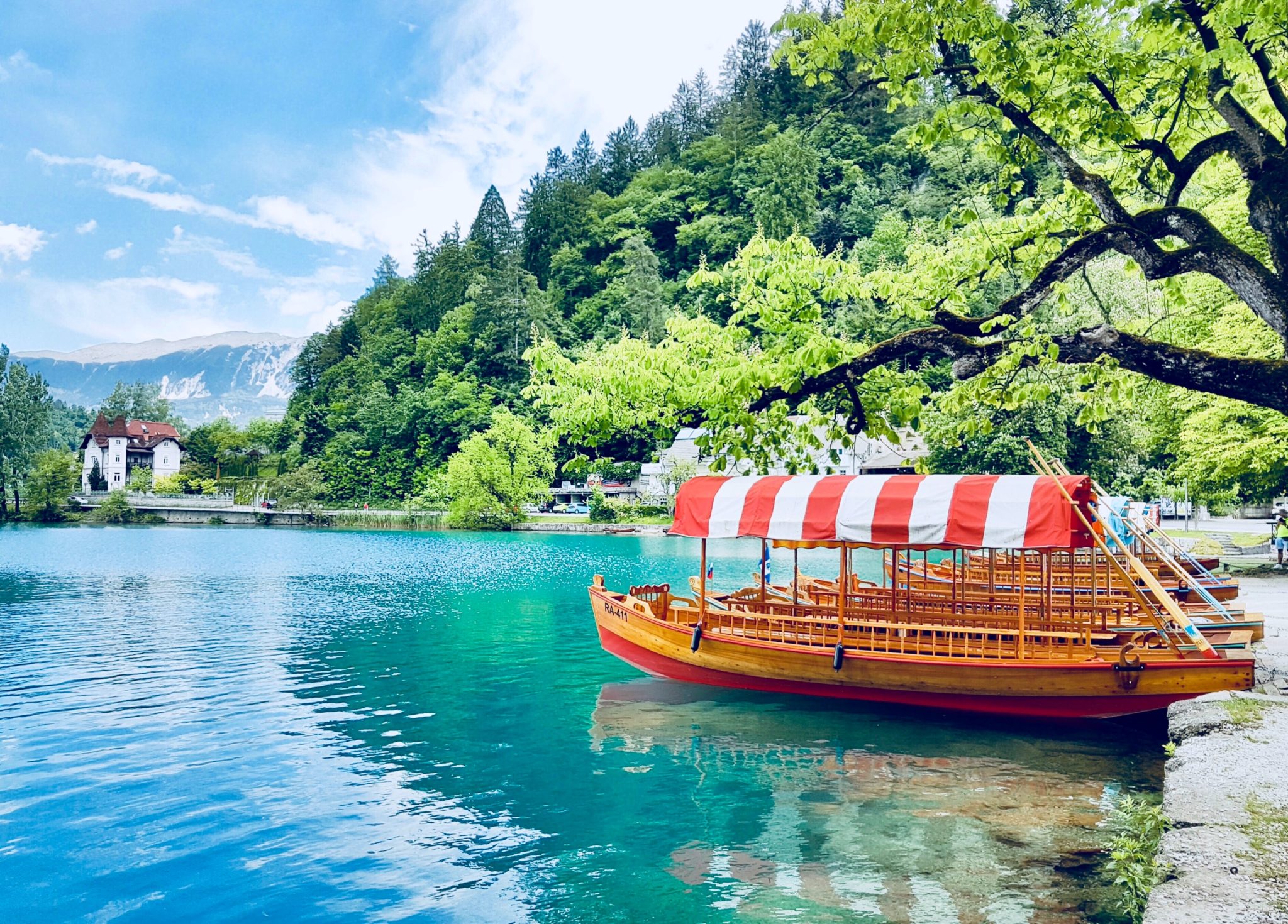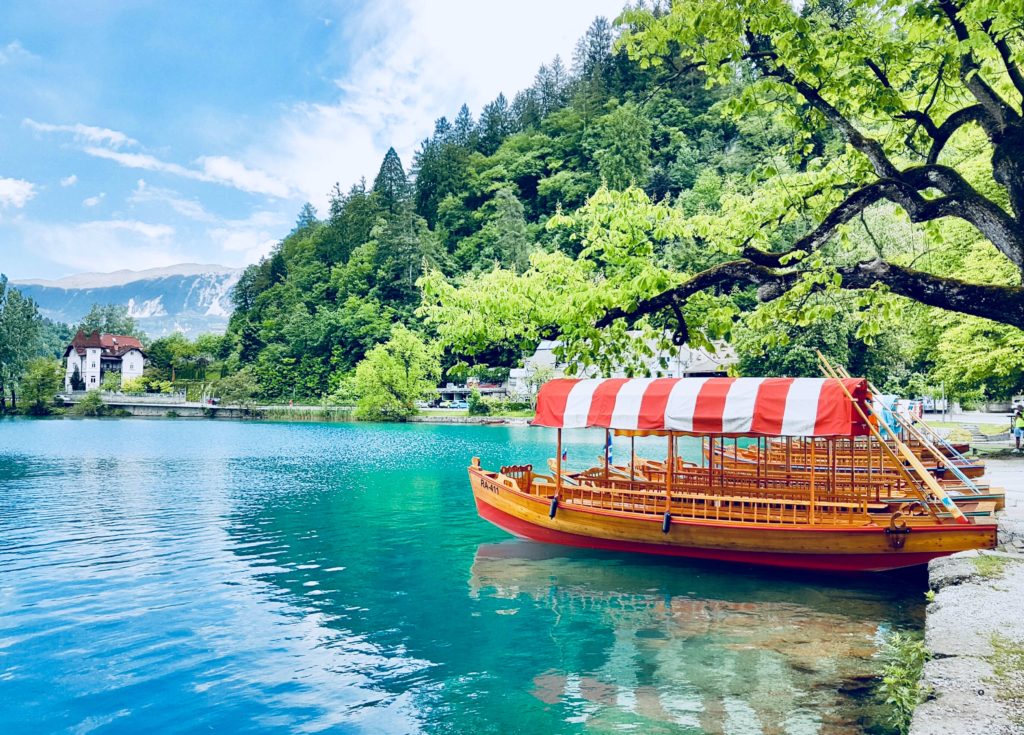 Last Day of Walking in Slovenia
Our last day was spent doing a walk around Lake Bohinj. We spent the day walking and snapping pictures of the tranquil lake that shadows the massive Julian Alps. The weather was not suitable for swimming for us, but many of the locals said when it is, it is a wonderful time swimming in the crystal clear waters.
We had to stop for some lunch and were suggested to eat the Bohinj trout- it was great. The western end of the lake brings you to a waterfall, Savica Waterfall, that feeds the water into the lake. We also took a cable car up to the 1532-meter high Vogel Mountain. This gave us the views of Mount Triglav which is the highest peak in the Julian Alps. We then spent the evening in town exploring the different pubs and drink choices they had to offer- great wine (there is extremely fertile land, just like Italy), locally brewed beers, and home-made honey brandy to die for.
It was a great end to our trip and really brought everything full circle. Immersing yourself in local culture is so important when traveling outside your home country.
Going Home
Departure day came and we had to say goodbye to this amazing little country. The views were unlike anything I have ever witnessed. It was a photography lover and adventurer's paradise. I highly recommend walking in Slovenia. It's a breathtaking destination for the whole family.
Discover the world by walking in 2023!
Escape from your normal life and take on a new adventure.

Reconnect with yourself and explore the wonders of the world!
Flexible itineraries Luggage transfers Specially selected hotels
Enquire now!
We are sorry that this post was not useful for you!
Let us improve this post!
Tell us how we can improve this post?