When is the best time to go on a walking holiday? This is one of the most frequently asked questions here at One Foot Abroad. There is not a single answer; it depends on a number of factors like your personal taste, availability, weather conditions. Every season has its own beauty that is worth discovering, but autumn is one of our favourite seasons for walking holidays. Let us tell you why.
Why Going on a Walking Holiday in Autumn?
– There are fewer people
The summer crowds have all but left, so expect quieter trails, less crowded towns, and nearly empty beaches, all adding up to a relaxing time for you.
If you aren't a fan of sharing the trail with groups of other walkers and pilgrims you'll love the quieter seasons. You can avoid school holidays, common work break times, and all the summer madness.
Waiting times will be shorter when you are checking in at your accommodation, and you'll be able to get a table at that nice looking restaurant. You can also get all the gorgeous photos without having to wait for other people to finish taking theirs.
– It is the perfect weather for walking in autumn
Summer can be very hot, and winter very cold, but Autumn is just right. Expect milder temperatures that are perfect for getting outdoors. Typically in southern Europe in autumn the weather is still quite dry, but bring a light raincoat just in case!
You won't need to be wrapped up under layers of clothing for most of your walk, and you also shouldn't have too much risk of getting sunburnt.
The air is usually cool too, which can keep you going as you start to work up a sweat.
So with these two very compelling reasons to go on a walking holiday in autumn, where should you go? Here we have our top 4 recommendations.
Our Top 4 Autumn Walking Holidays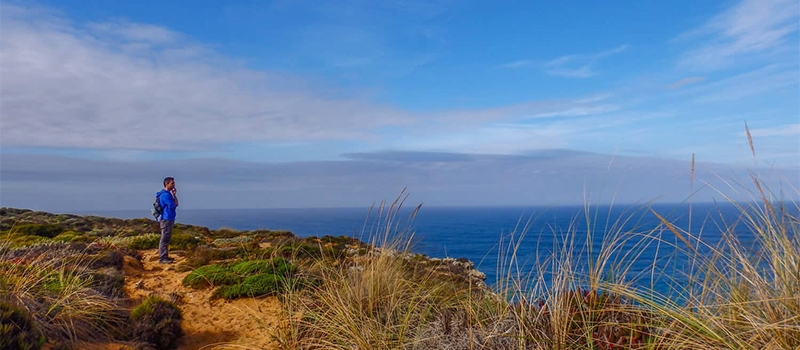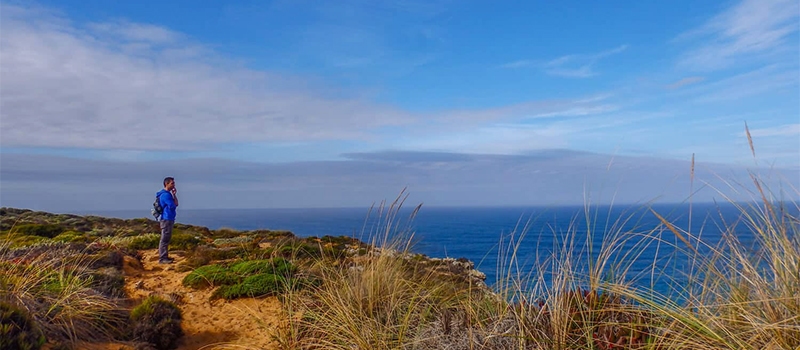 Autumn is the perfect time to visit the southwest of Portugal for a truly tranquil experience. With the busy summer period over, the towns along the Rota Vicentina transform into a tranquil paradise.
Mingle with the locals and get a feel for what living in this beautiful part of Portugal is really like. Discover hidden beaches so quiet you will feel like an explorer discovering them for the very first time.
Why not dip your toe in the Atlantic waters on one of these beaches and enjoy the pleasantly warm sea temperatures and finish your day off enjoying the local cuisine with a good glass of wine.
Gran Canaria – Walking Holiday Festival in Autumn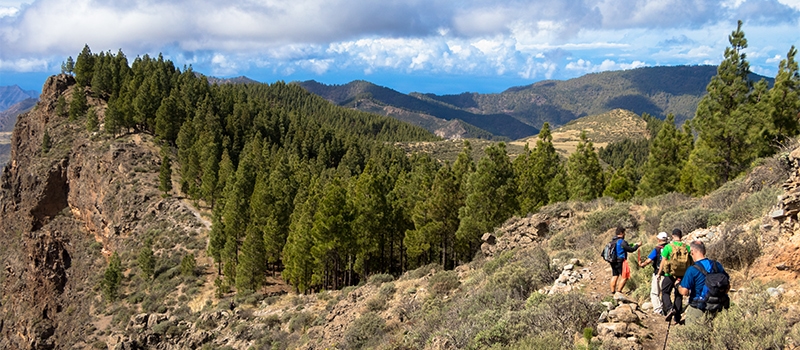 Every October in Gran Canaria there is an International Hiking Festival. Why in October? Well because it is the perfect time to discover this island on foot. With fewer tourists and the wonderful weather, you get to experience Gran Canaria at its best.
Join expert guides as they journey with you on foot around the island discovering some of its true natural gems. Also, this is a great opportunity to meet other hiking and nature enthusiasts.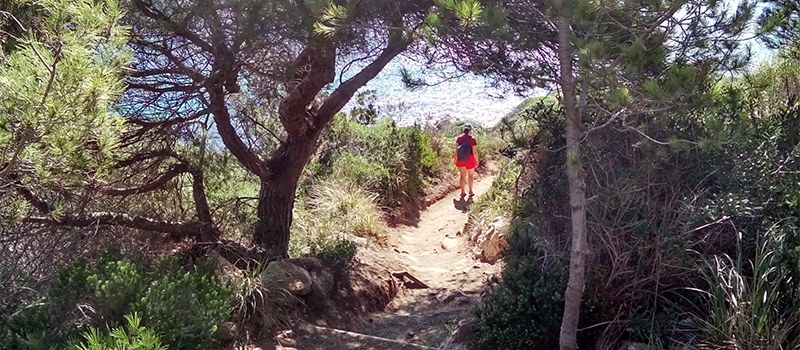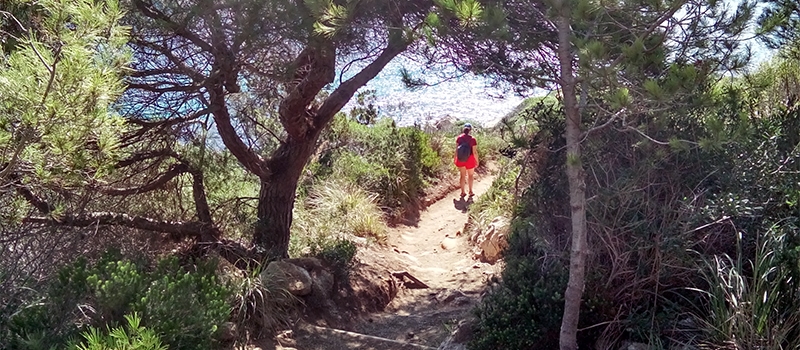 Explore this small island of the Balearics in autumn and you will experience a tranquil paradise of forests, quiet beaches, and laid back towns.
With on average as much rain as the UK and Ireland get in autumn, bring a rain jacket, but when the sun shines boy does it shine here! Still pleasingly warm, fall is a great time to hike this ancient track that circumnavigates the island and was traditionally used by horses to relay important news between the towns.
Spend your day on foot following the Camí de Cavalls, maybe even stopping for a quick swim and then relax in the evenings and enjoy the local cuisine with a well-earned glass of wine.
Tenerife – Hiker's Paradise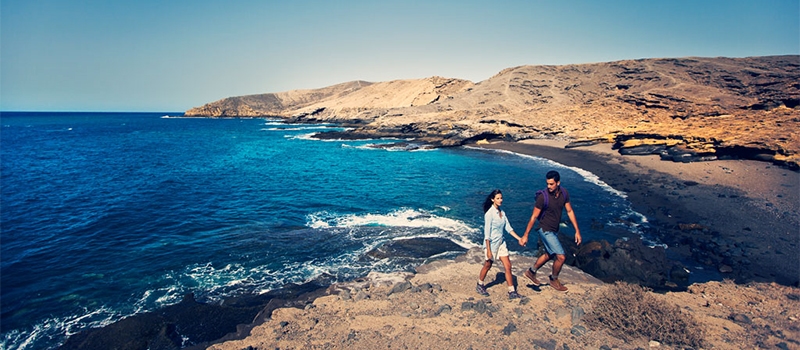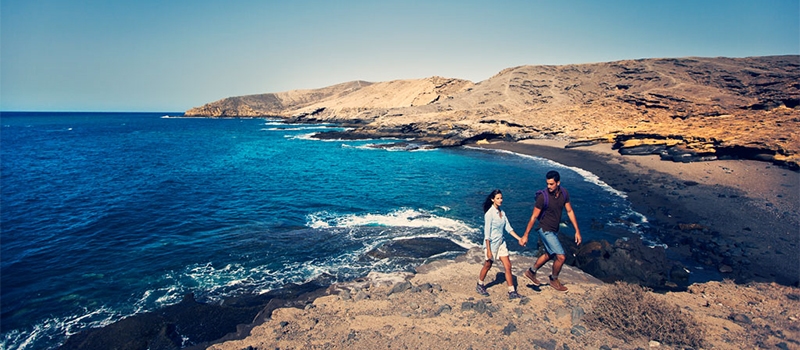 Escape the short evenings of autumn and go to Tenerife where in autumn the days stay bright till well after 6 pm. These few extra hours of daylight, the all-year-round good weather and this being a typically quieter time of the year to visit Tenerife make for an excellent opportunity to discover this beautiful island on foot.
Let our expert guides lead you during the day discovering the wide variety of landscapes on this island, then relax in the evenings under a clear starry sky enjoying good food and drink.  A great trip to meet people but also to have time to relax and reconnect with your loved one under one of the best night skies in the world!
Your Autumn Walking Holiday Made Easy
If you are planning to take a break this autumn a walking holiday could be for you. Walking holidays are good for your mind as well as your body.
Take your next step today and contact us, our Walking Holidays Specialists are happy to help you plan the perfect autumn break.
Start planning your winter sun holiday!
Escape from your normal life and take on a new adventure.

Reconnect with yourself and explore the wonders of the world!
Flexible itineraries Luggage transfers Specially selected hotels
Enquire now!
We are sorry that this post was not useful for you!
Let us improve this post!
Tell us how we can improve this post?