A few years ago, I heard Menorca had opened a coastal path circumnavigating the entire island. I had to go! In September, I decided to go with my partner to explore the route – Cami de Cavalls (The Way of Horses).
Our Trip
The length of the Cami de Cavalls is 185 km. It is divided into 20 stages. Our itinerary around the North and South sections covered a total of 90 km across 5 days. During the walk, we discovered secret inlets and golden beaches, pine woods, dramatic cliffs and fascinating archaeological sites. The walk is both coastal and inland, meandering through fertile valleys lined with fruit trees. Climbing sharp inclines across rocky footpaths and allows you to pause for sunbathing and diving into sparkling waves.
About Menorca
Menorca is one of the Balearic Islands in the Mediterranean, belonging to Spain. The name Menorca refers to the fact that it is the smaller of the two islands compared to Majorca. Mao (or Mahon) is the current capital of Menorca.
Menorca was invaded in 1708 by the British. In 1756, the French captured the island. The treaty of Paris in 1763 granted the British the right to rule the island again. In 1781, during the American Revolutionary War, the British were defeated by a combination of French and Spanish forces for the second time. One year later, the Spanish regained control of the island. In 1798, during the French Revolutionary wars, the British invaded it again. The Spanish finally repossessed it shortly after with the signing of the Treaty of Amiens in 1802.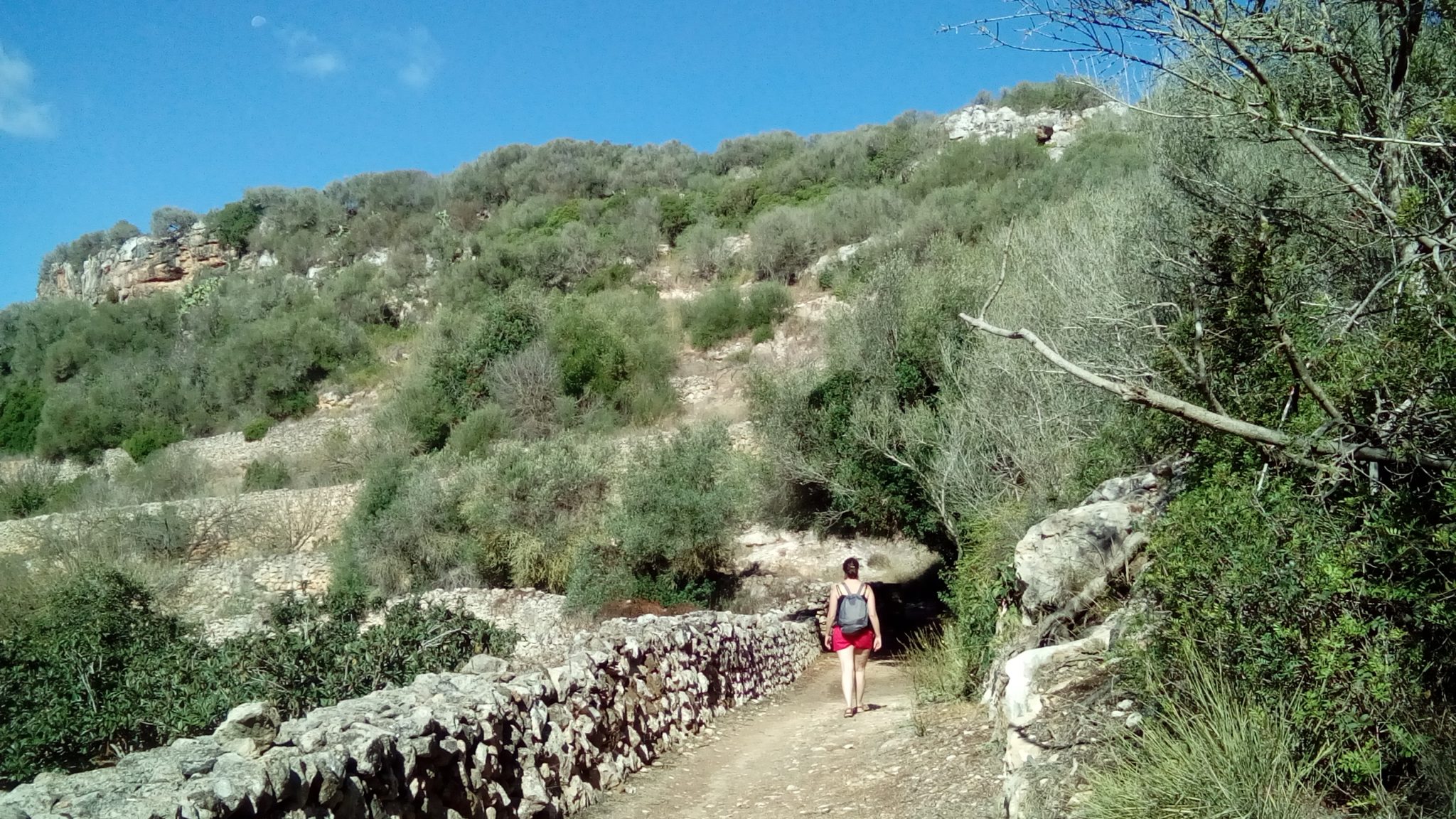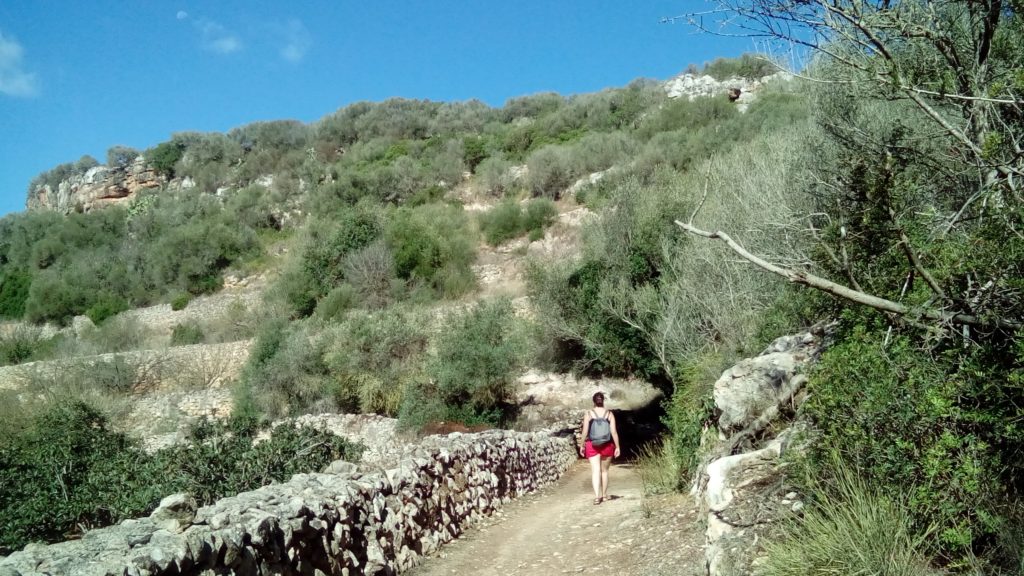 Originally designed for defense purposes, the Cami de Cavalls first took shape around 1330, during the reign of King James II. The route linked watchtowers and fortresses, acting as a communication network throughout the island. After initial objections from local landowners, the decision to restore this almost forgotten and long-neglected pathway to its former glory was brought by popular demand from the general population in 1996. It was completed as a public walk way in 2010. Its official European network title is G223.
DAY 1 – ARRIVAL IN MENORCA
Today we arrived in Menorca and took the twenty-minute shuttle bus to Mao, the capital city. It was just a 500-meter walk from the centre to our hotel, the Artiem. With lots of time on our hands, we spent the rest of the day taking in the sights. We mostly walked down along the harbour front where many restaurants and shops are located. There are lots of expensive-looking yachts and cruisers of all shapes and sizes. We returned to the city along a walk high up above the harbour. It had fantastic views across the bay and the countryside.
We arrived on a Sunday, so a lot of places were closed. But there were enough places to keep our interest. We took warmly to a tiny café attached to the courtyard market. We tucked into our coffees and sandwiches called 'Bocadillos' for the price of just 3 Euros!
On Sunday evening at 7pm, we met the representative of One Foot Abroad, Xavier Mendez. Xavier was very friendly, helpful and forthcoming with his tips and advice. He had all the information we could possibly need for our walks over the next 5 days. He supplied us not only with maps and walking notes but also with a GPS device. It contained all our routes and would guide us every step of the way. From the start of each day's walk, right up to the back home at the end of each day.
DAY 2 – CALA EN PORTER TO SANT TOMÀS
Xavier met us at 9am. He took us to the starting point of our first walk, which was Cala den Porter. So our coastal walking adventure began…
We passed numerous tiny farmhouses, dry stone walls that protected several orchards. We also encountered a giant pecan tree. Then, we dropped down into an impressive gorge that wound around the valley floor. We then we gradually climbed our way up along forest paths that, thankfully, shaded us from the day's intense heat. A few hours into the walk we decided to visit the ancient Talayout. It is an optional detour which is free and well worth the extra two kilometres, which it added to our journey. Back on the Cami de Cavalls, a narrow forest path eventually brought us down to a tiny inlet. The final part of our journey took us seaward again around the headland and over the beach into Son Bou.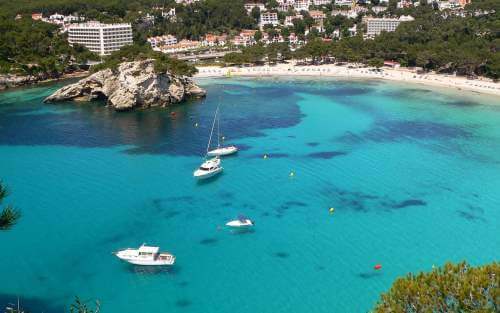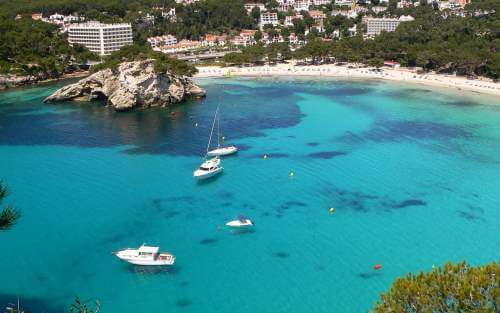 Although Son Bou is mainly for tourists, as are many of the coastal resorts on these walks, they still have a quiet and settled feel to them. There are beautiful neat gardens and lawns and family-friendly seafront boardwalks that add to the relaxed and low-key atmosphere. After a cool beer in Son Bou, we set off on the final 4km to Sant Tomas, encountering colourful and noisy bee-eater birds, a herd of cows wading among reed beds to graze, and even met by a friendly black pig, a Menorcan variety unique to the island. Shortly after this, we arrived in the neat and mannerly seaside resort of Sant Thomas. We checked in to our apartment and headed for the pool, finishing the evening over a tasty meal and a well-earned bottle of wine.
DAY 3 – SANT TOMÀS TO CALA GALDANA (12 km)
We set off along the coast of Binigaus for the first two kilometres before turning inland. There were skirting farmlands and rocky hills of pine forests and scrub, dropping occasionally into steep ravines. In places, sheltered from the intense heat, the land verges on becoming marshy. Slow-moving streams wind through the undergrowth, but small wooden bridges take us over these.
Then, we cross a field on sunken stepping stones, no doubt more useful in the damp winters, and as I step into a field to look at some beguiling flowers, the tall meadow grass erupts with hundreds of grasshoppers springing into the air in all directions. We catch one and positioned it on the drystone wall before letting it leap off again into the unknown.
Menorca is very much an agricultural island and walking the Cami di Callas you can see this all the time. The land is carefully cultivated without the use of poisonous sprays or pesticides. We hear more cattle and see goats in some distant scrubs. A tractor ploughs up a large field as we cut quickly across the chocolate brown, stony soil and turn into another lane. A group of about 15 horse-riders stroll towards us and amble past, in no great rush. A reminder that it was horse-riders on the paths originally to bring vital warnings across the island from town to town.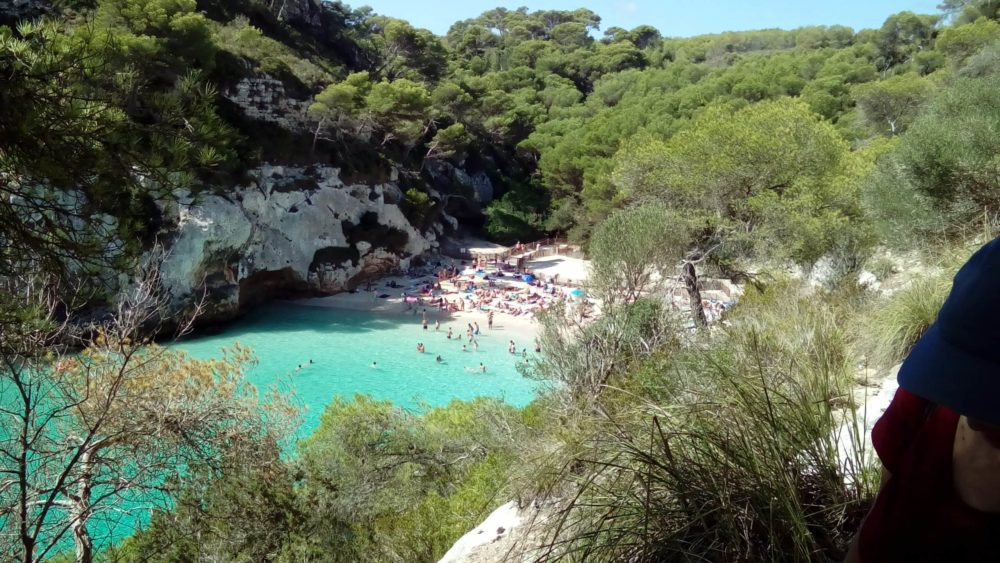 It was a good 10km to Cala Mitjana. After the cool shade of the forests, the sight of the deep blue waters of this inlet with its white sand, looking like something more akin to the Caribbean, is just what the doctor ordered. So, of course, without the slightest hesitation, we run and dive in.
One kilometre more and we arrive at our destination of Cala Galdana. This is a small town with a charm of it's own. There are only a few shops and restaurants here but free, low-key entertainment is available in the hotels on most nights. People are friendly and the crazy golf is about as exciting as it gets. It was worth spending one evening here just to get a flavour of the place.
DAY 4 – CALA GALDANA TO SON SAURA BEACH (10 km)

Today is a short walk, just 9.5 kilometres, so we set off late and stop after just 2 kilometres at the beautiful Inlet of Cala Macarella where there is a small bar. White boats sit on the calm blue waters just outside the swimming zone. There were people diving off their decks and others snorkeling the rocks and caves around the foot of the cliffs.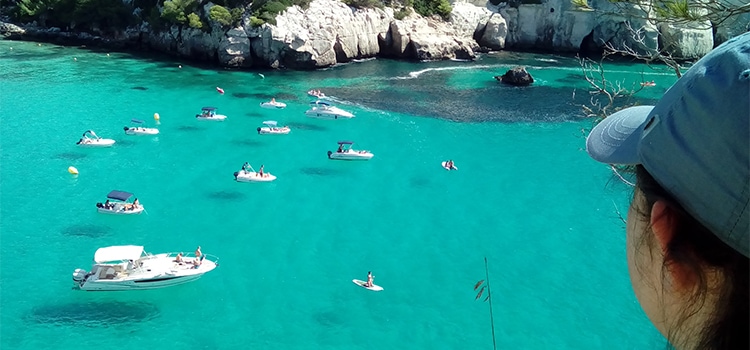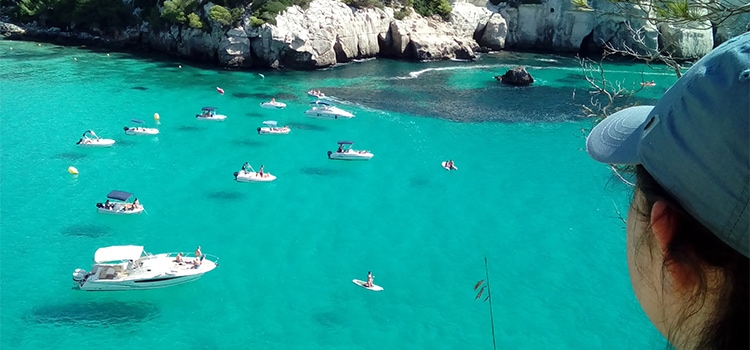 We swim, then continue past another smaller inlet called Calla Macarelleta. We cut through juniper bushes and wild olive trees as the dust path takes us through a forest and out again onto the coast for the final 5 kilometres. The surface here is jagged rock, as if coming from molten lava, but a path cuts across it and we come finally to Son Saura beach, our final stop on Menorca for today. We arrive an hour early so we watch birds while having a picnic before Xavier, our guide, arrives to pick us up, with some cold beers. We finally got a ride back to our accommodation in Ciutadella.
DAY 5 – CALA MORELL TO ELS ALOCS (18 km)
Today we set off a little earlier as we had over 18 kilometres to cover, all without the shade of forests. The landscape was different here. It was more open and abundant with great stretches of high cliffs for the eye to follow off into the distance.
The terrain underfoot was rocky, but off the path the landscape seemed as if a neat hedge gardener planted and trimmed it. It was a quieter walk with very few people, probably because access to the sea is more difficult here. In fact, this part of Menorca does not have real beaches. The bird life kept our interest though, with eagles, buzzards and hawks aplenty. We kept moving today, covering ground until we came in sight of the sands of Els Alocs a good way down below.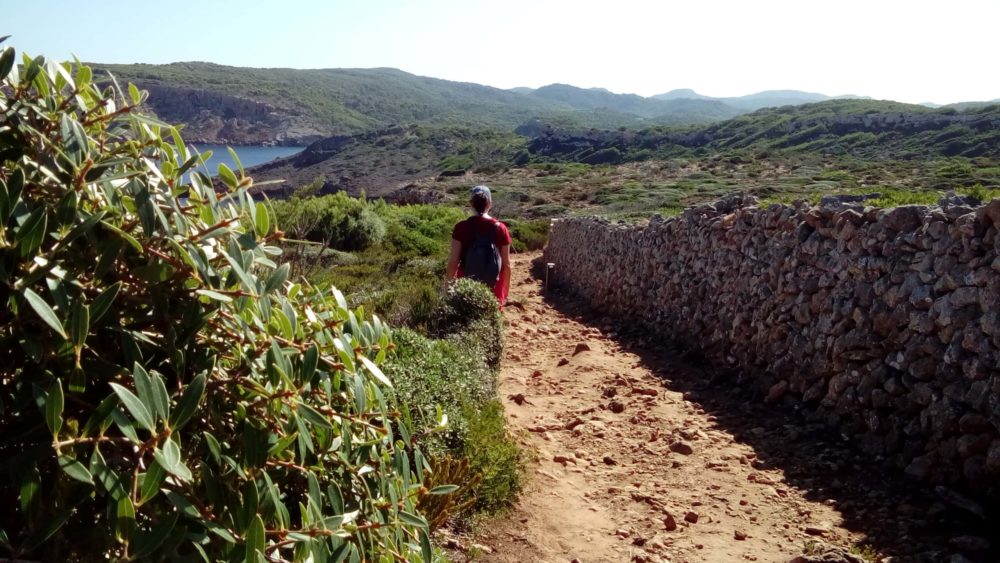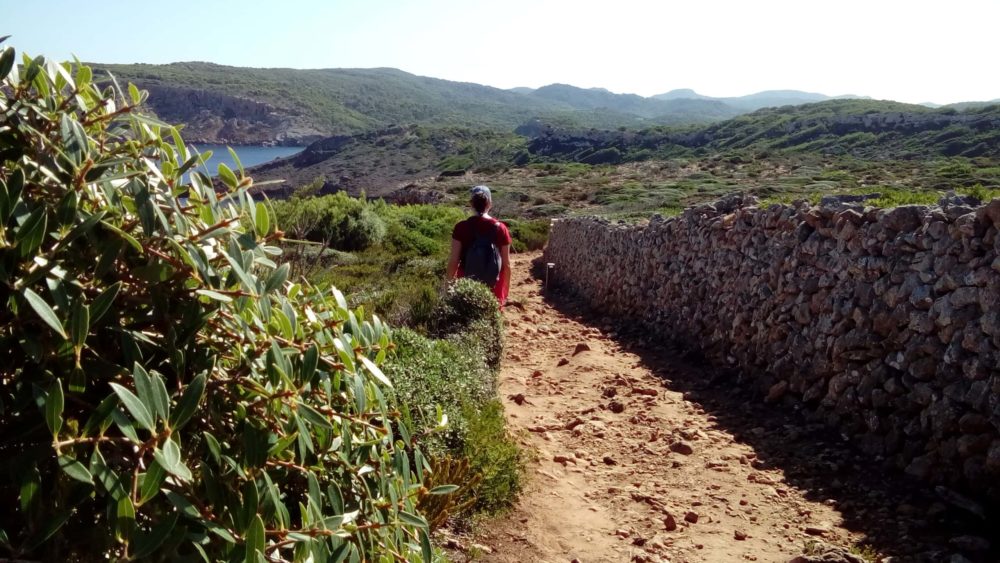 A steep and sandy path brought us down and the first thing that caught our eye was how many bathers were venturing up onto the small hills of red soil that edged along the beach smearing the thick mud/sand onto their skin. Clearly, we had to dive into the sea to wash it off after. We probably stayed here a little longer than we should have, eating our picnic and swimming. We underestimated how far we had to go to our pick-up point. The road to the usual pick-up point had fallen away in recent rains which meant having to walk a few extra kilometres . Eventually, we met a smiling Xavier who drove us the remaining 20 kilometres to Fornells.
DAY 6: BINIMEL – LÀ TO PORT FORNELLS (15 OR 22 km) (ARRIVING TO CAP DE CAVALLERIA)
Another long days walk… 19 kilometres, as we decided to take in the optional extra 4 kilometres to visit the Cavalleria Lighthouse. The day was overcast to begin with, but brightened as we climbed up and dropped down onto beaches of yellow and red sand. We watched surfers far out at sea, waiting interminably for a big wave to carry them in.
Some of this walk was by road, especially out to the lighthouse. It felt strange to have cars pass by after days of woodland and coastal seclusion.
The lighthouse had a nice café where we sat and took in the beautiful panoramic views. We decided not to take the museum tour, instead, we set off back along the road and cut onto the footpath, heading once again over high rocky headlands towards Calla Tirant.
WEATHER CHANGES
Banks of dark threatening clouds were moving in from the sea over Menorca and we could feel a spattering of rain. Our timing proved to be as close to perfection as you could wish for. Finally, we cut across a beach and climbed some steep wooden steps into Cala Tirant. Then, the wind picked up suddenly and the heavens opened in a torrential downpour that went on for nearly an hour.
We sat, sipping some delicious beers and looked out on all this with a great sense of satisfaction. We had as good as completed our walking holiday. From here, after the rain stopped, it was a short 20 minute walk back to our hotel in Fornells.
DEPARTURE
Our wonderful adventure was all but over and we had enjoyed every minute of it. Finally, we made the most of what there was to offer by way of walks and observing the natural world of Menorca. We got lots of swimming in and time out relaxing in the sun. We also learned a lot about the history and culture of this proud little island.
The next day we hopped on a transfer for the hour-long journey to Mao and back home.
Discover the world by walking in 2023!
Escape from your normal life and take on a new adventure.

Reconnect with yourself and explore the wonders of the world!
Flexible itineraries Luggage transfers Specially selected hotels
Enquire now!
We are sorry that this post was not useful for you!
Let us improve this post!
Tell us how we can improve this post?