After seeing many of my friends and their families take trips to Italy the past few years, I figured it was finally time for me to stop listening to their stories and accounts of the Tuscan countryside and go hiking in Tuscany myself.
I chose a hiking holiday because I wanted to fully immerse my senses in the culture—It was also a great way to work off the endless amounts of pizza, wine, pasta, and gelato I was consuming. Choosing to go hiking in Tuscany was one of the best decisions I could have made.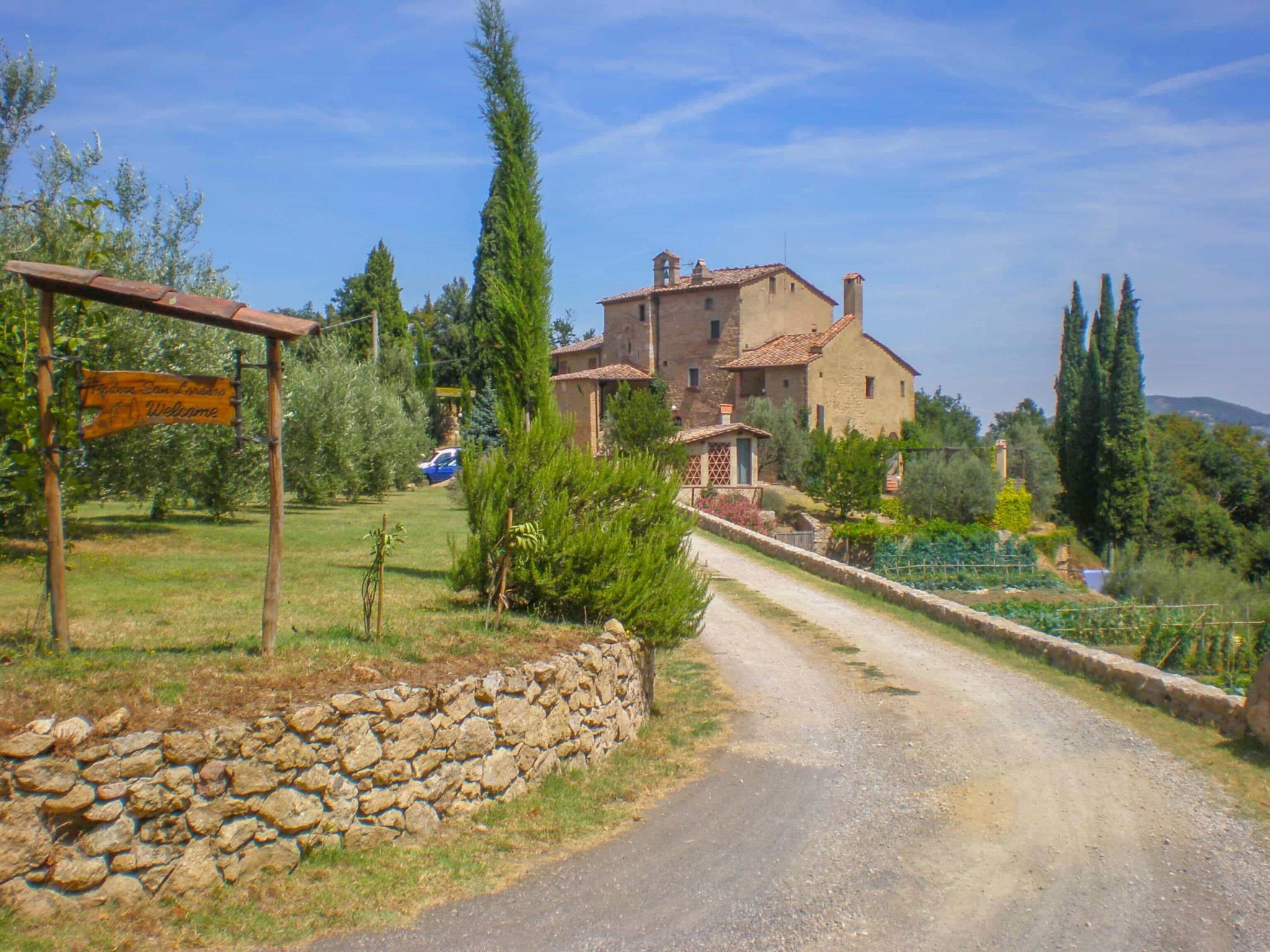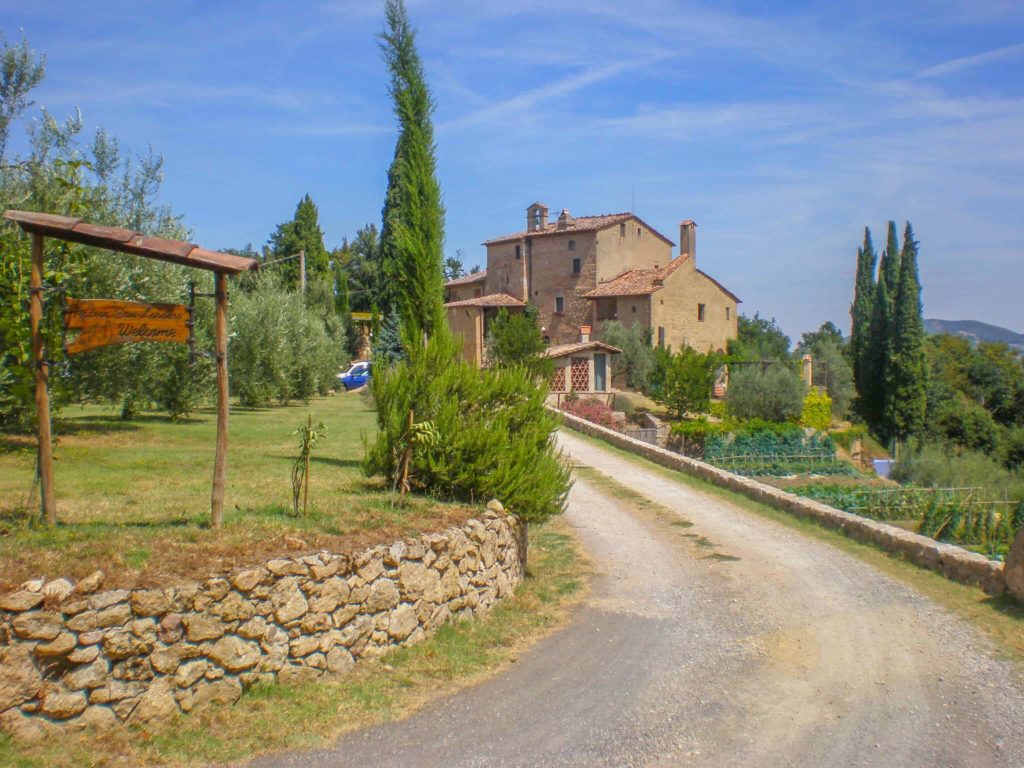 A Great Start to the Trip
On the first day, we started our trip in Volterra. It is one of the oldest villages in Italy dating back to pre-7th-century structures. Coming from the US, these structures are always amazing for me to see. There is close to nothing at home to see that is this old and still intact.
Aspects of these structures resemble work of the Etruscan, Roman and Medieval periods.
Views stretch for miles, and thankfully we had a beautiful day so the sky presented itself to us in a beautiful blue. The walk is mostly on a white road, lined with cypress trees.
You can find cypress trees frequently throughout Tuscan landscapes, often near the entrance of houses. Colors of green stretched around us was unlike any color combination I have seen before. It really almost looked as if it could be fake. In every picture I took, no matter the camera or quality, it cannot do the views justice and definitely should be seen in person.
Unique Architecture
Day two, we started the day with a quick transfer to Pignano. This walk brought us through the beautiful green vineyards followed by the stern oak woods. We also had beautiful views of the ruins of Castelvecchio. We finished hiking in San Gimignano, Tuscany, a UNESCO World Heritage Site which is famous for its extensive medieval towers.
Like many Tuscan towns, San Gimingnano is a walled hill town with medieval characteristics. About a dozen tower houses remain, which is very uncommon. It is such a unique site because all of these towers just sort of jet out of the city.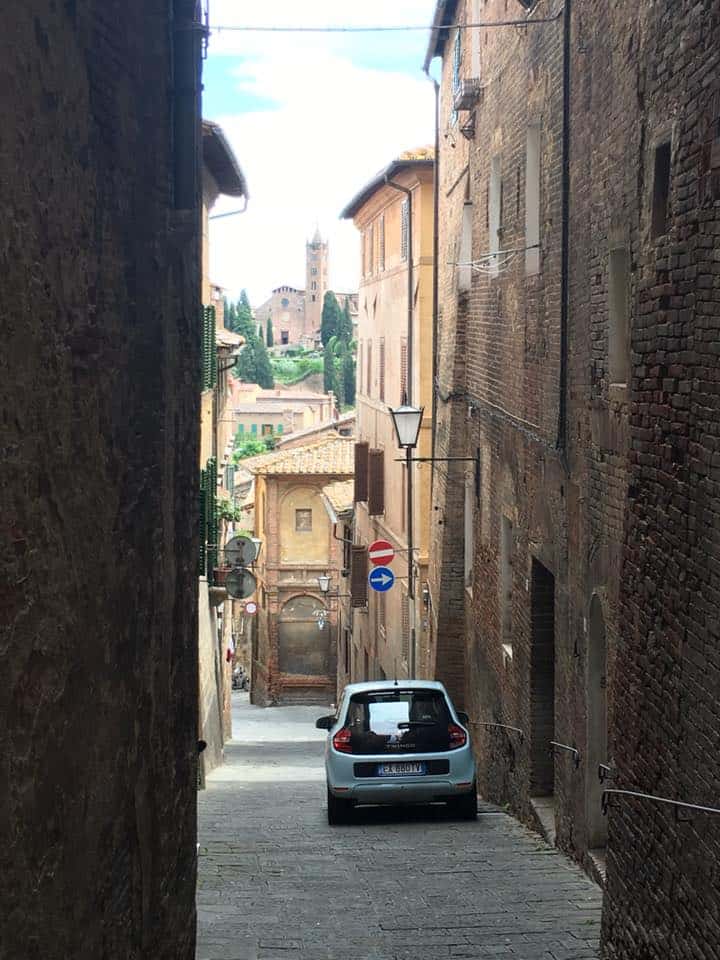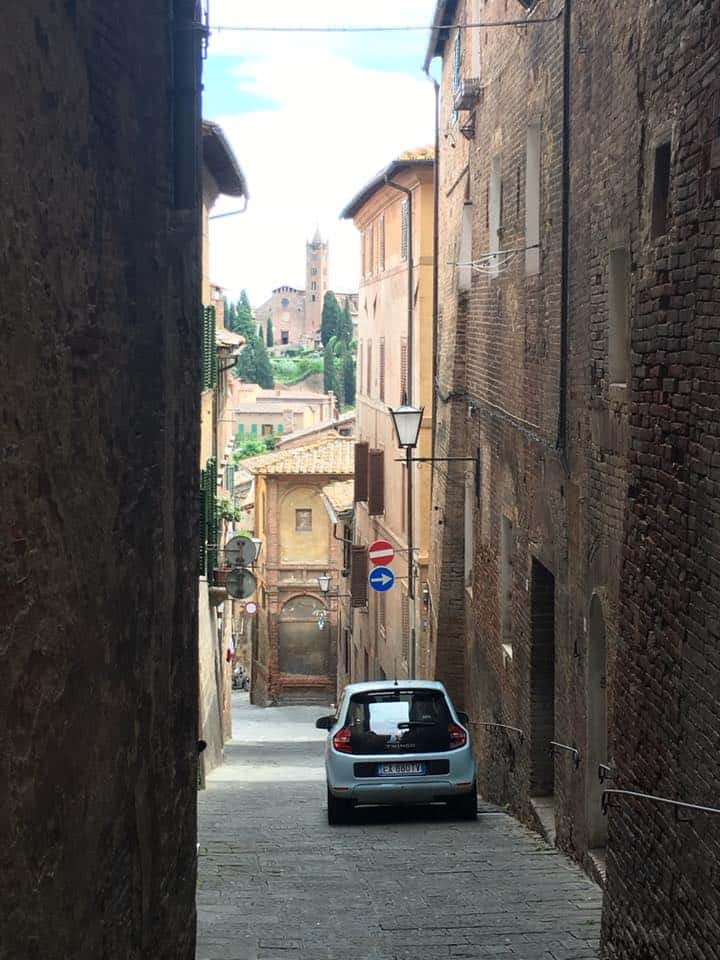 A leisurely walk through olive groves and rows of cypress trees until we reached Montecchio started off day three. The two castles from about 975 are claimed to be the inspiration for Romeo and Juliet . We then continued to Colle Val d'Elsa. Colle Val d'Elsa is a town that has a view of the border of Chianti and Siena and overlooks the vineyards of Chianti- home to some of the best wines in Italy.
Of course, we had to stop and get a few bottles for home. A great service many of the vineyards offer so you don't have to worry about getting it in your suitcase. The people who work at the vineyards are often very friendly and inviting. They loved talking to us about the processes and history of their wines.
Peaceful, Yet Long Days While Hiking in Tuscany
Our fourth day's walk was a cool and shady walk. It was very peaceful and exactly what I wanted in my fourth day, although it was a long descent to the Castel Petraia- this really tired us out, but it was so worth it. We then went up to the densely forested hills of Montagnole.
We then continued on to see the fortifications of Monterrigioni. The walls around the city total about 570 metres and give the entire city a unique feel. We had a glass of wine, antipasti, and of course pizza, to finish off our long- but worth it- day.
Our Final Day on the Walk
The final day we walked the road again. We crossed the Montanella while admiring the village of Fungaia. Fungaia is unique because its church has a frescoed interior. We then transferred to Siena via taxi- a nice little break to sit and catch our breath and just look out the window.
Siena is a beautiful town bustling with tourist traffic and fun vibes. People all congregate in the main piazza, some sit just gazing up at the amazing tower and buildings surrounding. We began to veer off down to the side streets that come out of the piazza to find the best, hidden restaurants and wine cellars. We came up on one restaurant that we really just stumbled into. This restaurant was built on top of an old wine cellar.
I'm afraid of heights so this was an interesting surprise for me, only having a few inches of glass between me and a drop of about twenty feet. Some wines to taste in this region: Chianti Classico, Vino Nobile de Montepulciano, Brunello di Montalcino. If you like dessert wine, a popular dessert wine of the region is Passito del Santo – in combination with one of Siena's famous sweets of course.
Continuing On After Hiking Tuscany
We decided to keep going after hiking most of Tuscany. We decided to go to a place that is on my bucket list. It has been since I was a little girl. We trekked onto the beautiful city of Florence.
While in Florence we visited the Duomo—and frequented the restaurants surrounding it. Palazzo Vecchio, Galleria de l'acedemica, which houses the David, the Arno River and the famous Ponte Vecchio. And of course the San Lorenzo Leather Market.
We were able to have a glass of wine while watching the sunset on the Arno. As there is a little dam structure that they allow you to walk out onto and sit on. We eventually made our way over to Pisa, which is about a 45 minute bus ride that departs right from the train and bus station in the centre of the city. Pisa is sort of a tourist trap, but a must see at least once in your life. It is good for a half day trip- Then head back to Florence or a little village in Tuscany for the real fun.
Discover the world by walking in 2023!
Escape from your normal life and take on a new adventure.

Reconnect with yourself and explore the wonders of the world!
Flexible itineraries Luggage transfers Specially selected hotels
Enquire now!
We are sorry that this post was not useful for you!
Let us improve this post!
Tell us how we can improve this post?