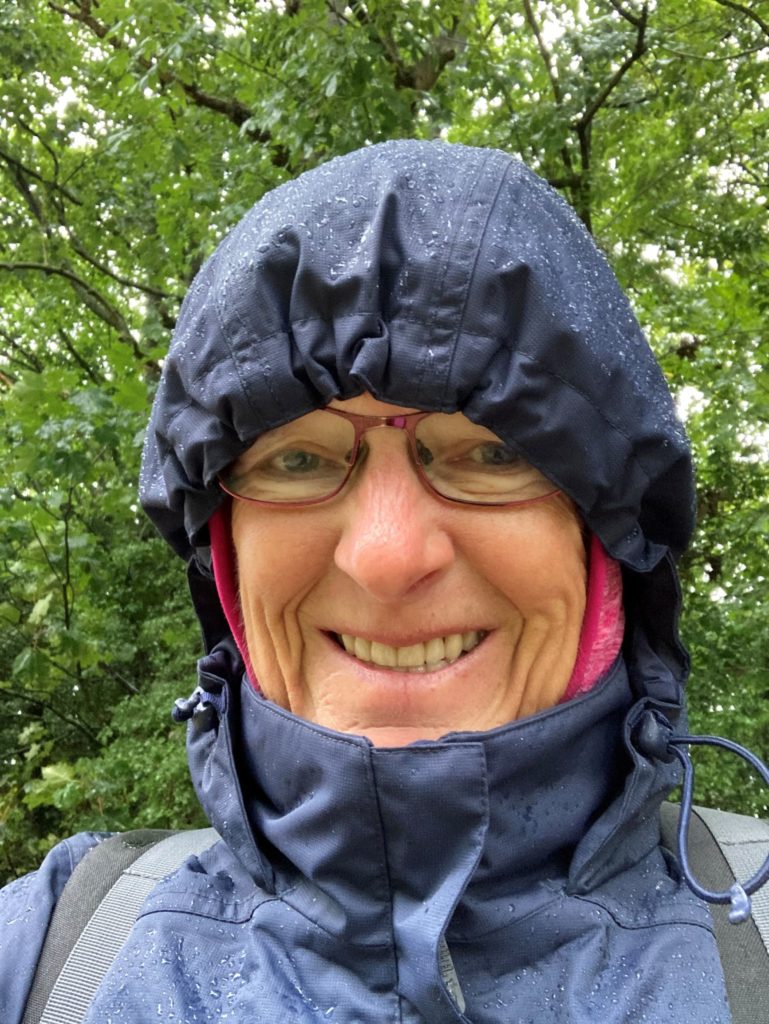 We have some incredibly talented people who choose to do active holiday adventures with us. This fantastic poem was written by our client, Dorothy Saul-Pooley, after she walked the Cotswold Way from Chipping Campden to Bath in October 2020.
It certainly sounds like she had an excellent adventure, and we can't wait to send her on another one.
If you've done one of our trips and written, drawn, painted, sang, or created something else after your trip we would love to see it!
The Cotswold Way – An Ode
Starting in torrential rain,
My left ankle began to cause me pain.

In lowering cloud and thickening mist, 
The proper path was sadly missed.

Wandering confused, I checked the App –
It was far too wet to use the map!

Indeed, I'd gone round and round and round
But finally the route was found.

Arriving in Stanton by GPS, I was led
To find the Shepherd's Hut for my bed.

My hostess took my boots to dry
And I set the tumble drier to high.

Tea and biscuits helped to abate 
My hunger till I dined at eight.

I had to climb another hill
To reach the Mount Inn to fulfil

The need for dinner and some wine
And after that I felt quite fine.

Next day the rain continued to fall,
So I didn't do the route at all.

Instead a visit to the castle
At Sudeley – far less hassle.

Latte and cake a hole did fill
And then the bus right up Cleeve Hill.

The rain stopped just for a little while,
Enabling me to walk a mile

Or two, just up the hill to sweat,
Although my feet were really wet.

It rained and rained all through the night-
Chances of walking seemed very slight.

To Cheltenham I took the bus,
New boots to buy- without a fuss.

And the clouds – well they just parted,
And in earnest now the walk was started.

Up Leckhampton, all the way to Birdlip
At the George, the wine was great to sip.

Next day in sunshine, departure quick – 
Through woods and mud, up hills to Painswick.

The Falcon provided good food and wine
And again the next day was largely fine.

But painful ankle, really sore
Made Leonard Stanley route an awful chore.

Next day to Dursley for toasted tea cake
Helped ease the pain to Wootton and make

The long distance easier to bear,
But more nice weather led me to dare

To hope the wet weather gear could take its place
At the bottom of my suitcase.

A long day followed but the rain 
Decided to start up again – 

So damp and muddy I limped – oh what a slog
To the pub, at teatime, called the Dog!

The next day was Cold Ashton to the Crown,
Up steep hills and then back down.

The short day meant I'd got a plan
To visit Dyrham Park – gardens to scan.

On the way, a heavy shower
Reduced my smiles to a glower.

But it was short-lived and when I got there
The sun was shining bright and fair.

Lovely gardens, beautiful views
So more walking or tea? What to choose?

I chose to have a large fruit scone
And the shower clouds were soon all gone.

Next day, the final sector to complete
The Cotswold Way – Bath Spa to greet.

Lots more miles with rather sore knees
I can't say that it was done with ease, 

But having climbed so many hills
My heart and lungs with pride are filled.

As I made the last few steps into the City
Of Bath and remembered just how pretty

All that Georgian architecture is – 
And oh wow! Doesn't the place just fizz!

Days of country pubs and such-
This whole experience was much 

More than just nine days of walking –
It'll be a whole lifetime of talking.

Dorothy Saul-Pooley, 11th October 2020
Get in touch with us to learn more about the Cotswold Way and many more other active walking and cycling holidays across the UK and Europe.
We are sorry that this post was not useful for you!
Let us improve this post!
Tell us how we can improve this post?