People say, if you have seen one green tree, you have seen them all. They think if you travel so much, you must get bored. But surely you don't think that holds true for an adventurer? After all, we can see the colour of each culture and hear the music the people play each day. For us, every destination is different and unique. Even the sun sets a thousand different ways in each place. My friend and I went to several places together around the globe. This time, we set out to see the Romanian beauty, the famous Transylvania and we were as excited as ever.
Exploring Bucharest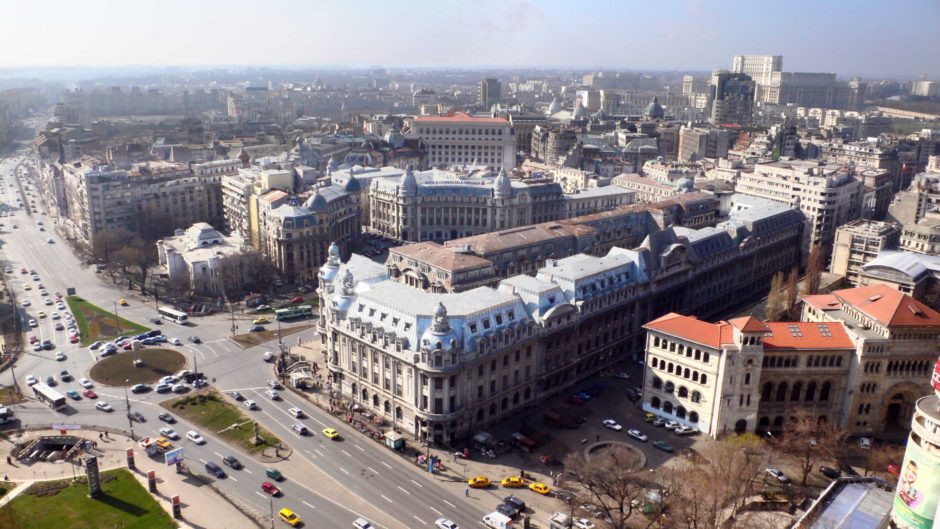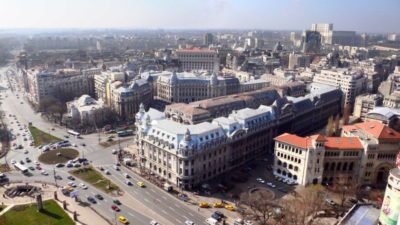 We landed in Bucharest 1 day before we would start following the travel agency's advice, so as not to miss this vibrant capital of Romania. It was Saturday and the weather was absolutely gorgeous. Our hotel was in the middle of the old town.  We had plans written out for the day. Never mind jet-lag, we quickly put away our luggage and went out to explore.  We went everywhere, visiting museums and cafes. The city in Transylvania is filled with both old and new buildings, standing next to each other. How the area was shaped with capitalism after communism, how the themes perfectly blend together was quite interesting to me.  There is a village museum in the north of the city, where you can see different styles of buildings over the centuries. We went there because of my friend. She is big into photography and graphic design. It was an architectural paradise for her.
At the end of the day, we had forgotten about our 'to do' list altogether when we came across a public square where people were having some great fun. People danced and sang together. The atmosphere was amazing. I have no idea why Bucharest was once named the "little France", maybe because of the Arcul de Truimf? The city was absolutely nothing like what I have seen anywhere; not France not any country. Contrary to common beliefs, the streets were also clean and the people were really friendly too. We had plenty of garlic soup to keep the vampires away.
Sinaia
The next day, we took the train to Sinaia, Prahova county, where our walking holiday would start. The resort is a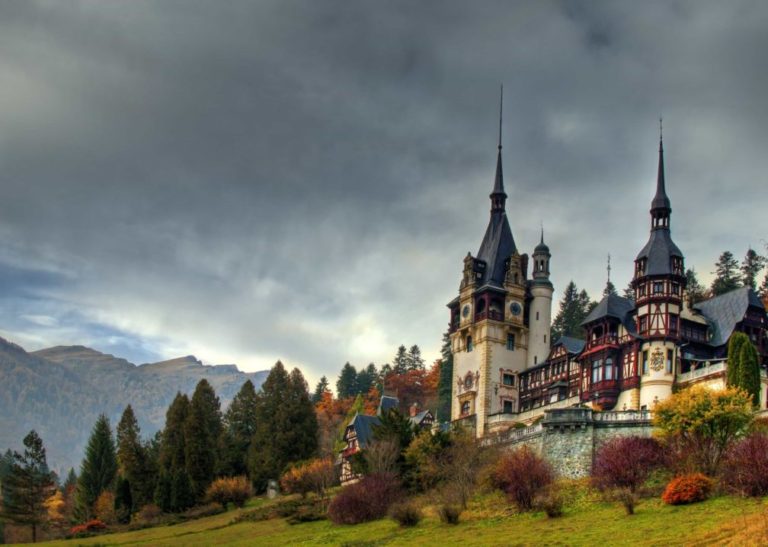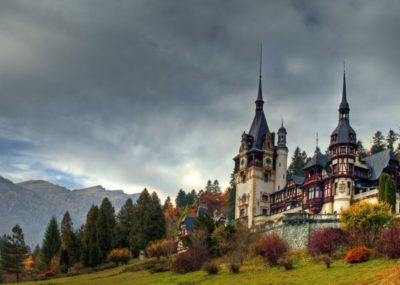 famous spot for skiing and hiking as well as being a historical site that captivates many. We went sight-seeing famous places of the area, one of which was the Peles Castle and once again blessed our eyes. It is this castle that earned Sinaia the title of "Royal Estate", because the King Carol I bought some acres of land here after having fallen in love with this building and views surrounding it. And you would have to see it to believe it. It really was a magnificent castle, inside and out. Every time I come across castles, I feel as though I have been teleported a few centuries back and can peek into the life of those who have lived there. Royalties are, without a doubt, the most interesting ones. Just about everything they used were of luxury and glamour; the tableware, chandelier and ceilings. Nowadays we do seem to be more about the "casual" style. I am not complaining. But imagine…
Walking
The walk started early the following day straight from my hotel door. There were several routes to choose from. But being the challengers, we chose the longest route (14km). Experienced traveller would tell you that 14km is easy enough but the walk was pretty much like climbing because the road was steep so it took us 6 hours; the hardest day of the trip.  Nearing the end of our walk from Babele Hut, we walked about just another 100m to see the Sphinx then descended down to Pestera. Romanian Sphinx was a natural coincidence and I wasn't entirely sure of its significance. Nevertheless, we went to our hotel and after dinner, slept like babies. I would say the fresh air and long walk knocked us out.
Once we passed the first day, the following days were a piece of cake. We walked through forests and open landscapes, granted with beautiful views with flocks of sheep here and there in the distance of Transylvania. Eyes filled with stretching hilltops and vast sky, we walked and walked in tranquility. And we didn't forget to photograph and read either. We also made sure to stop at famous attractions. Self-guided tours are this, it gives you plenty of freedom and you can go on your own pace.
Highlights: Dracula
On the 4th day since we started walking, we made a stop at Bran castle, famously known as the Dracula's Castle.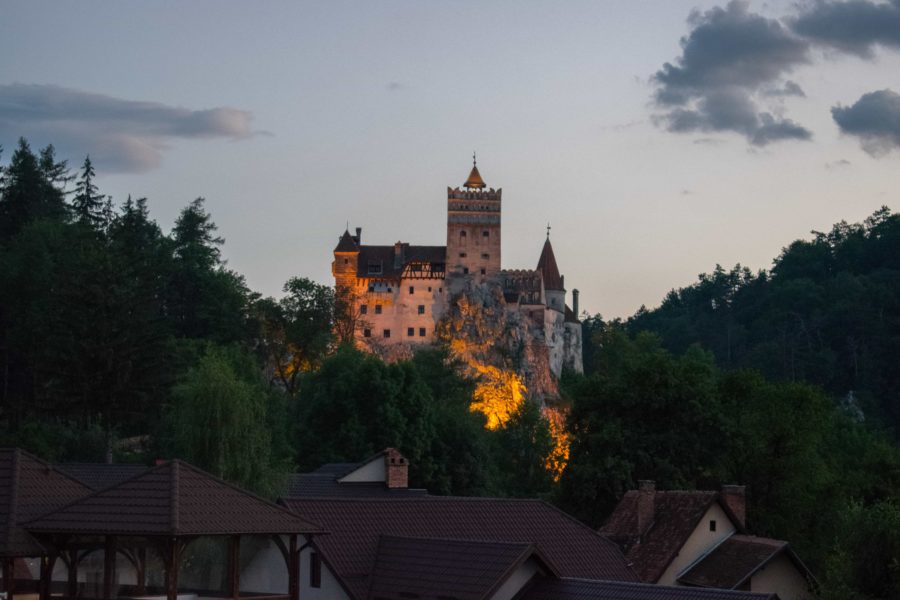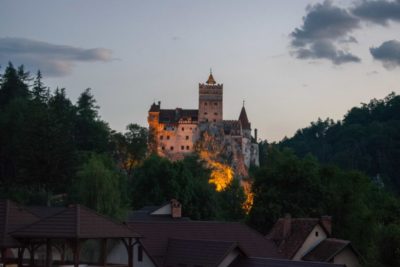 Legends and history are something that tickles my inside the most. I mean, who doesn't know of the famous legend of Dracula? This very legend written by an Irish author was perhaps what gave this place its fame or was it the other way around? Bran castle in Transylvania was, with the vampire context in mind, looked eerie enough. There were old artifacts for show inside and I thoroughly enjoyed walking around the castle. At the foot of it, there was also a museum park quite like the village museum we saw in Brovets, except this one consists of only cottages and barns where the Romanian peasants would have lived.
Highlights: Piatra Craiului National Park
I was born a coward. Really! The thoughts of predators and wild animals have always been scary for me. And this park was not somewhere likes of me should have been. Because this national park in Transylvania has thousands of bears, wolves and lynx. But, these animals avoid humans if possible and I was counting on it. If it wasn't for my friend though, I would not have even set foot near here. Well, luckily for us, we only found harmless but unique formation of limestone called King's Rock and we went on our merry way.
Transylvania was a lot of things; garlic, architects, castles, Dracula, wolves and bears. Midst of these, we had the opportunity to become part of it as the land of Romania embraced us completely.
We are sorry that this post was not useful for you!
Let us improve this post!
Tell us how we can improve this post?
Communications Manager working in all things media, based in Dublin's fair city with a passion for travel and an ear for languages. Having lived in Spain, Geraldine speaks fluent Spanish so is happy to grab the opportunity to skip along the Camino de Santiago at the drop of a hat.