The Coast to Coast walk was my first hike in England. I have a fair bit of experience in Ireland, France, Spain and Morocco. However, I didn't know what to expect from the UK. The walk was originally achieved by Alfred Wainwright. He was clearly very ambitious as there are stages of 30K+ a day for 13 days. While I personally like the challenge, I usually like to get to my next stop by 5pm at the latest. I like to get time to relax and unwind in the evening.
The Beginning of Coast to Coast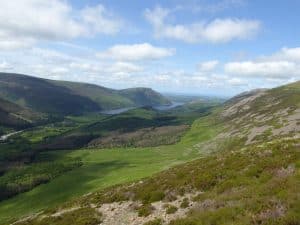 The start of the walk is on the west coast of England and the Lake District in the village of St Bees. The train journey from Manchester airport is quite pleasant and the village itself is lovely although the main village is inland, 10min walk from a great beach where I started the walk.
The Coast to Coast Trail
The Coast to Coast walk starts gently on a nice green footpath heading northward, before veering east. The walk in itself is not heavily sign posted so you need to keep an eye for signs and directions. It is important to have your maps/notes handy to ensure an enjoyable trip. This Long Distance Walk (LDW) of England then enters the Lake District, which is the rainiest area of England. While that sounds like a put off, I was surprised by how good the terrain was. You keep walking on sturdy ground; not at all the soggy wet grass/boggy patches like I had feared.
Coast to Coast as National Park
What a beautiful region. As it is a National park, it is a protected area. That means that the landscape remains unspoiled. Tourism has definitely developed greatly. With a small bus only servicing towns to town, so that tourists can leave their car at their hotel. You do not see lanes of cars along the trails access. The tracks are a mix of rocky tracks, dirt track and grassy tracks walking. These are only crossed by sheep and lamb. You will pass by valleys and re-entrants, saddle ridges (very accessible) and alongside lakes. You get a truly Alpine feel and challenge but with more reasonable ascent. There is also a choice of different walks some days depending on your form for the day. For your walk you can choose between some easier and some more challenging walks to your next destination.
Robin Hood's Head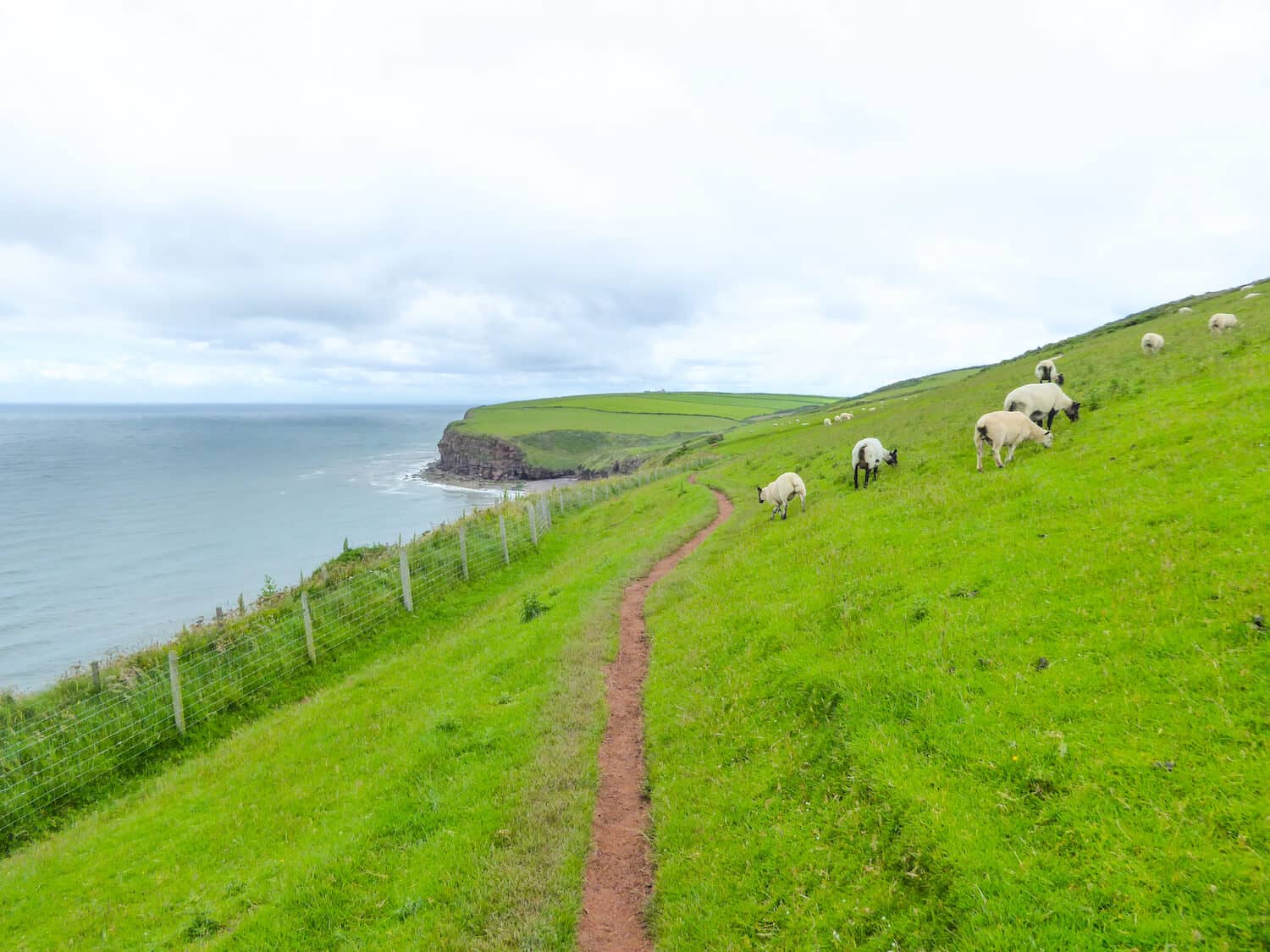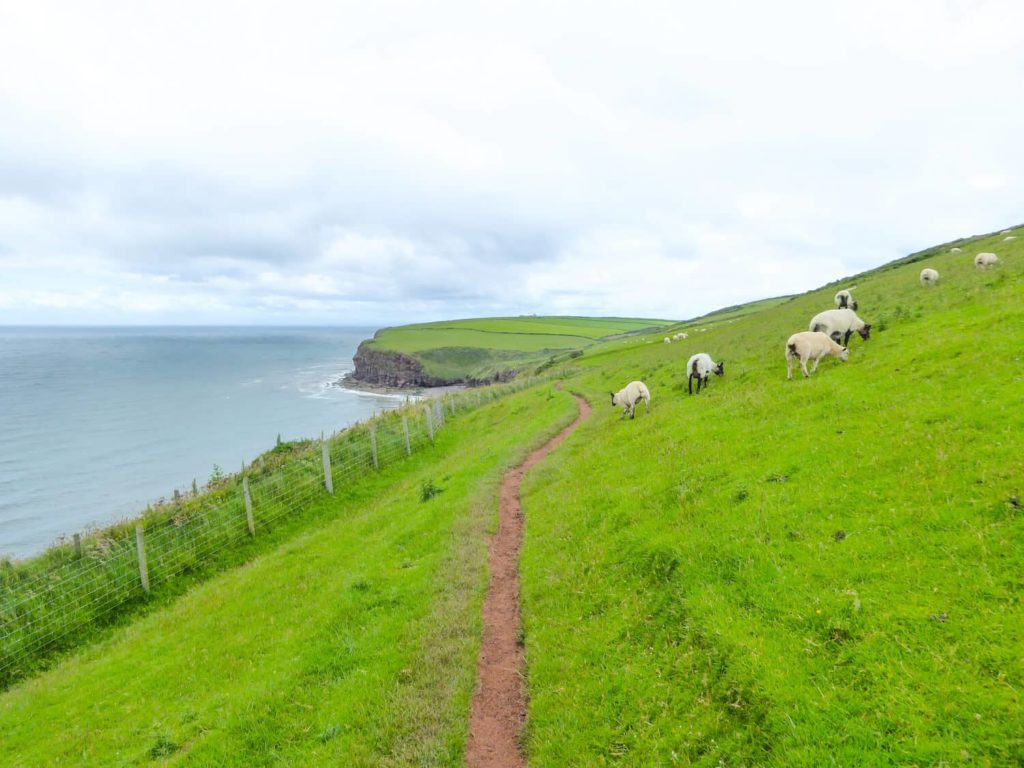 Our stops in the local villages are very peaceful and relaxing in villages like Patterdale, Cleator, Ennerdale Bridge or Robin Hood's Head. You will get a chance to try the many local craft beers such as Hawkheads or Loweswater. The area is also renowned for its sheep.
These lovely animals are not only good for their wool (Herdwick). They are also known for their meat once cooked in Rough Dale or Swaledale. Weather stewed or roasted, you will get a chance to taste some of the most delicious lamb around.
With very little walking along roads, even when you are out of the mountainous Lake district, it makes this trip a great break away from day to day life of busy towns and cities.
Coast to Coast Itinerary
The Coast to Coast walk itinerary in its original breakdown of 13 days is very challenging. The combination of length and ascent make it discouraging. We have broken up the stages into more manageable stages. The trade-off is, to cover the whole journey it will take you up to 17 days.
But as I often say, more mileage is not necessarily better. One should not feel guilty about doing a week and not reaching the east coast. Remember that these long distance trails are there for our enjoyment so, don't have to be taken to the dot. It is a bit like the Camino, which can be walked in 5 to 35 days. So do spend whatever time to it that you are willing and able to afford.
Here is a table with the walking distance between each location on coast to coast walk. Depending on the speed and distance you choose to cover per day: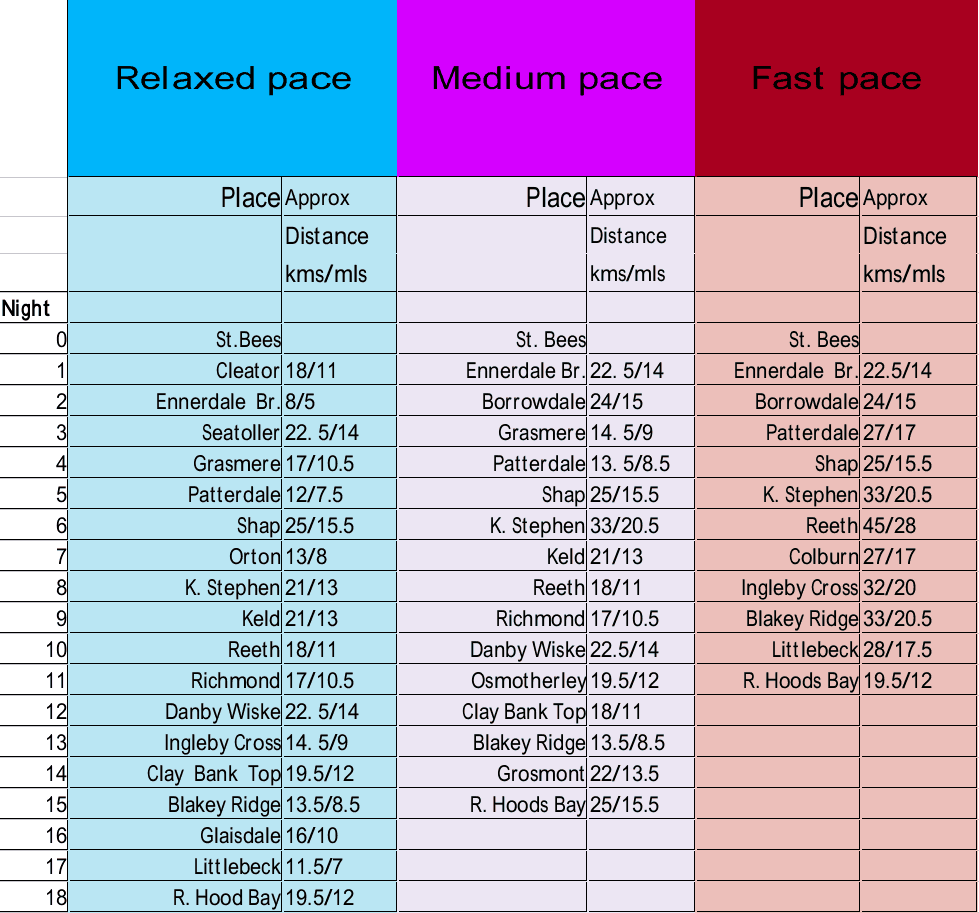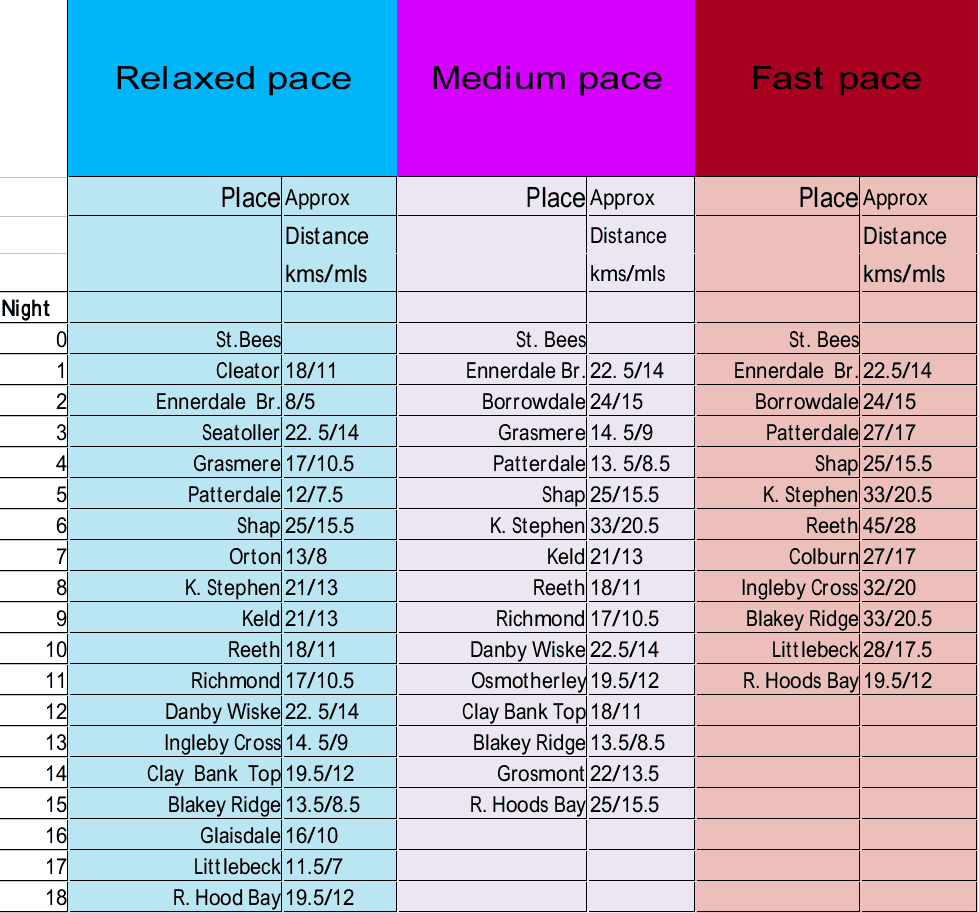 The stays throughout the tour
You can also get your main luggage to follow you from inn to inn like most walking holidays.
The inns along the way are a combination of smaller British guest houses, very warm and charming. Your host often welcome you with a cup of tea in one of those china cups 😉 You will also sometimes be in bigger hotels but they are all independent hotels. So, they remain charming and unique with a bar and a warm fireplace. It is waiting for you when the day has been tough and cold. Because the villages are small and the accommodations scarce, it is important to book ahead. A town like Grasmere can represent a challenge to find a place. This also means that the price of accommodation along the Coast to Coast walk is also on the higher side.
Why walk the Coast to Coast
So why should would you want to walk the Coast to Coast walk? Because walking in England is great. You will not get the temperature and weather you get in France, Spain and Italy. However, you will experience great walking, great and lush green landscape. Some people also prefer to walk with lower temperatures. This walk is a great option for that. You will discover some lovely villages along the way and walk in pristine nature. The Coast to Coast has a varied landscape with coastal walk, mountain, valley walk, bog and farmland walks. It has it all.
What to pack for the walk
The people along the way are very warm and full of humour. I was lucky to meet the local rugby club president. He also runs a hiking gear shop in Shap where I actually bought a great pair of socks for hiking. I also chatted farming with my host in Patterdale while they gave me a lift to the centre of the village. I greatly appreciated this after 28km and 1600 metre ascent that day. It is also a beautiful walk in autumn.
While this walk is a great journey, it is important to get the right equipment to enjoy it. The Coast to coast walk is no walk in the park so you will need your waterproofs head to toe. Gaiters are a good idea as well although I was fine without them myself. It just adds some comfort. Now I am not saying that it rains all the time. But when it comes to comfort and walking, it is a matter of responding to the situation. Walking poles will be a great help too on the various ups. But especially downhill to release the pressure on the knees.
So, if you prepare for your walking holiday, the Coast to Coast walk is an excellent destination to explore the roots of the UK. Would you like to learn more about our walking and cycling tours across Europe and beyond? Check out our informative and inspirational blog. Have you already made up your mind? Great! Contact us today to start planning your next adventure.
We are sorry that this post was not useful for you!
Let us improve this post!
Tell us how we can improve this post?
Communications Manager working in all things media, based in Dublin's fair city with a passion for travel and an ear for languages. Having lived in Spain, Geraldine speaks fluent Spanish so is happy to grab the opportunity to skip along the Camino de Santiago at the drop of a hat.