What is the Via Francigena?
The Via Francigena is a walking pilgrimage route to Rome. It was established as the centre of Catholicism in the 1st Century when Christians arrived. Since then pilgrims have been making their way through various routes to visit the Eternal City. The route itself has changed over time and has alternate route options.
How the Via Francigena Became a Pilgrimage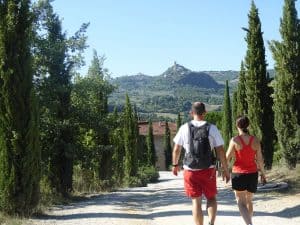 The most widely known itinerary for this route is that written by the Sigeric the Serious. In 990 he travelled from Canterbury in England to Rome to receive his palladium and for Pope John XV to ordain a Cardinal. On his return to Canterbury, he documented the places he stayed in a journal. The walk took him 80 days to complete and covered a total of about 1,700 km. It crossed Italy, Switzerland, France and England.
During the Reformation and due to the political instability in Europe, pilgrimages to Rome became less popular and much of this route fell into disuse or became part of national road networks. This happened with other pilgrim routes as well.
History of the Via Francigena
In the Dark Ages, this route was of strategic importance in connecting the duchies within the Kingdom of the Lombards. Then, under the rule of the Franks, this route became known as the Via Francigena "Road from France". By the Middle Ages, pilgrimages to Rome were at their height. This was mostly because the Holy Land had fallen to the Muslim conquests, making it more difficult to complete for Christian pilgrims.
The Via Francigena today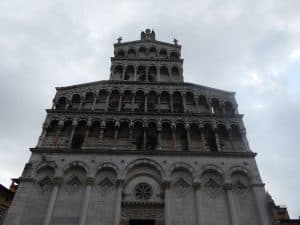 Via Francigena was designated as a Cultural Route by the Council of Europe in 1994 and then as a Major Cultural Route in 2004. There have been increasing investments in this route, particularly through Italy. In 2009, the Italian Government recognised the importance and benefit of recovering this route. It ensures that the route has good sign posts. They began supporting communities along the route in providing services for pilgrims.
The package that we provide will follow the Via Francigena from Vercelli in Northern Italy down to Rome over some 779km. It is divided into 16 sections. You can do one section or a couple of sections to fit your timeframe and challenge level.
It is difficult to walk the Via Francigena?
The Via Francigena route is not particularly difficult. Challenges are mainly related to stage length, altitude differences, and possible water shortages. These will cause travellers to increase the weight of their backpack.
The best periods to travel the entire route are May and June, or September and October. We recommend that you avoid the hottest months, especially in the Po valley. There is only limited shade and the weather can be stifling.
Water and rest stops on the route
Water fountains and eating places are common on some stages but in others are rare or even absent. Each day you should carefully consider the availability of water and take it into proper account in planning how much water to carry. During an average stage in high summer, it is advisable to drink at least two litres of water in order to reduce the risk of heatstroke. You may also want to supplement your water with mineral salts.
In Italy, most of the towns on the via Francigena have cafés or shops that sell groceries. We will provide you with maps and route notes that show you where these are on each stage of your walking holiday.
Equipment to take on the Via Francigena
The best footwear for this type of journey is lightweight ankle-high hiking boots with anti-blister hiking socks. Your backpack should have a volume of between 35-45 litres. We recommend to pack only the bare minimum. The weight should not exceed 7-8 kg.
Choose an excellent quality backpack and shoes – in this area, it is best to spare no expense. The rest of the equipment will be less expensive but includes very light and breathable technical clothing. For the rain, a good quality windproof jacket and an umbrella are the best solutions.
Credential in the Via Francigena
The pilgrim's credential is a kind of "identity card", certifying that the person in possession is making a pilgrimage to a place of worship. Always carry your credential so that you identify as a genuine pilgrim and gain access to refuges. You can have your credential stamped in every place that you stay during your journey.
The credential will allow the pilgrim to receive the Testimonium – certifying completion of the pilgrimage – from the appropriate religious authority.
Walk with us
We offer tailored walking holidays along the Via Francigena that are to suit you. We can arrange different styles of accommodation, bicycles, and route plans that fit the journey you want. You can choose to walk or cycle just one section of the pilgrimage, or you can combine a few if you want to walk for a longer period. Contact us for more information on the options that are right for you and we'll help you plan your perfect walking holiday along the Via Francigena.
You can also read more travel stories from Italy here. If you would like to join other pilgrimages, visit our other website, Follow the Camino.
We are sorry that this post was not useful for you!
Let us improve this post!
Tell us how we can improve this post?
Communications Manager working in all things media, based in Dublin's fair city with a passion for travel and an ear for languages. Having lived in Spain, Geraldine speaks fluent Spanish so is happy to grab the opportunity to skip along the Camino de Santiago at the drop of a hat.