Choosing your destination for your much awaited holiday is by no means an easy feat. Then there is also whole another task of figuring out how exactly you are going to do the travel. Walking, hiking, diving or multi activities; the list goes on. Both me and my boyfriend work in an office and probably exercise once a week at most. For not so fit and non-sporty type of people, e bike tour was just the perfect solution. It is one of the best way to go on holiday, relaxing and adventurous. And when you go to a literal heaven on earth, it isn't hard to convince others why.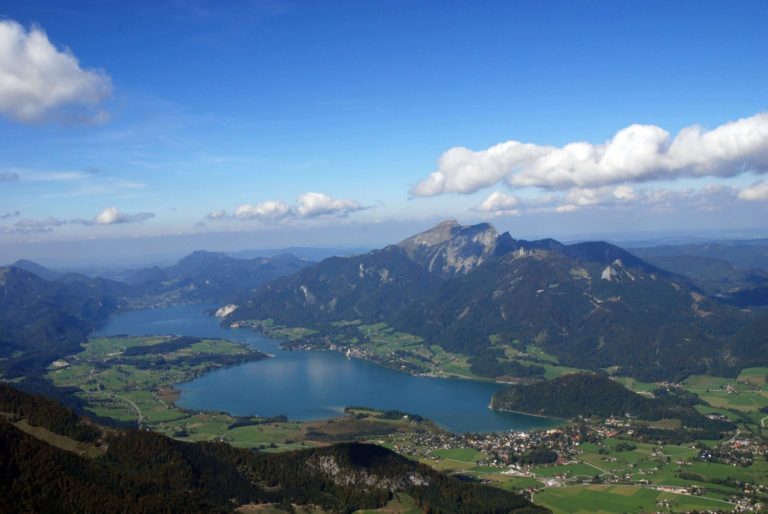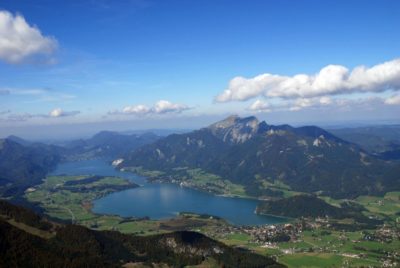 We went to Salzkammergut in Austria whose name translates to "Estate of the Chamber of Salt" in English. There is a precious salt mine that is, in fact, one of UNESCO world heritage. This is a unique resort area that consists of numerous gorgeous towns, stretching from Salzburg to the mountainous area of Upper Austria. We were to cycle to and from 8 different regions of the area in a week. How exciting is that?
Bad Ischl
Bad Ischl is where our journey of cycling in Austria started. It is a stunning town just beside Mount Karin that the Emperor Franz Josef (1830-1916) himself chose as his summer destination in his life-time. The town overlooks the river Traun and you couldn't get enough of their splendour. The agency organised it so that we could enjoy the first and last day of the trip here, touring the area by ourselves. After lunch at our hotel, we walked around and found the famous Kaiser Villa not so far from the town centre. This delightful villa was a significant place of history and the architecture was interestingly decorated with classical scenes that we rather enjoyed looking at. We found other museums and spas as well. The atmosphere was relaxing and overall a peaceful day away from stress and worry.
Lake Attersee
After having done a bit of research and having received a fair bit of instruction from the travel agency, we were ready to go on our tour. One kick, two kick, we were already flying. The bike itself was bit heaver than the regular one, but because it did most of the work, it was easy to handle. Compared to a car ride, it was fundamentally different; we felt more connected to our surroundings. While cycling in Austria, we were going along River Traun and forests, we found Attersee in the village of WeiBenbach. The view there was absolutely amazing and we circled around the lake again just to take in the scenery. The bikes then needed to be recharged and in the mean time we had our full rest at our hotel, accompanied with a pleasant dinner.
Exploring the hidden gems
The villages we came across here are what really made our holiday what it is. They were situated as if to have been carefully tucked and hidden away among nature – the mountains, lakes and little houses all staring at one another. On the third day, we cycled through the village Unterach, which is situated on the south-eastern shore of Attersee. Also known as "Little Venice", the village is small but beautiful. The village people were very friendly as well.
The following day, we had the opportunity to really explore around Lake Wolfgangsee rather than just passing through. We took a boat trip to Saint Wolfgang village. Although small, there were plenty of things to do. Here is a pilgrimage church that was built with two different architectural style – gothic and baroque. the villages of Austria heavily relied on their salt mine but nowadays it is all about tourism. It was interesting to hear about piece of history while enjoying their local deserts and delicacy.
More cycling in Austria
The longest distance we cycled was on the 5th day. At this point, we were well used to the routine and cycling was more enjoyable than ever. After all, this was the first time we traveled this far with our own effort. Our e bikes did make it a lot easier. Austrian weather also helped tremendously. It was warm with a cool breeze on the bike. I cannot stand too hot weather. I don't know if it is always like this, but the weather was just perfect. Along the way, we stopped everywhere to take photos of the surrounding. There is an abundance of scenic here. It was replenishing.
It was hard to believe it was already time to go. We hadn't achieved anything by busy city standards nor were we particularly productive by other tourists examples. We didn't go to every single famous place in the area or posed in front of every single spot. But this feeling of great accomplishment was there because the days we spent cycling in Austria and sight-seeing here meant a lot to us. It was a complete rest for the both of us. I must had not known how to completely rest before.
PS: We are planning to buy our own e bikes very soon. I cannot wait.
Discover the world by walking in 2023!
Escape from your normal life and take on a new adventure.

Reconnect with yourself and explore the wonders of the world!
Flexible itineraries Luggage transfers Specially selected hotels
Enquire now!
We are sorry that this post was not useful for you!
Let us improve this post!
Tell us how we can improve this post?
Communications Manager working in all things media, based in Dublin's fair city with a passion for travel and an ear for languages. Having lived in Spain, Geraldine speaks fluent Spanish so is happy to grab the opportunity to skip along the Camino de Santiago at the drop of a hat.